Drinking in Singapore, Can I afford it?
Singapore – Food and Beverage
Drinking in Singapore, can I afford it?
Singapore is a thriving cosmopolitan city that is constantly reinventing itself to attract more visitors to the island state. We love this place and every time we return there is more to see and do. But it's not a cheap place to visit. Read on as Triprovider delves deeper into the cost of a drink to find out more.
We're dining alfresco in a prominent position right in the middle of Clarke Quay.
If you're like us then you love frequenting cool bars in cool places where you can people watch and take in the cool vibes. And on this occasion we have ample time to watch.
We have been waiting for over an hour for our meal to arrive and there's no sign of it coming any time soon. They've forgotten about our order…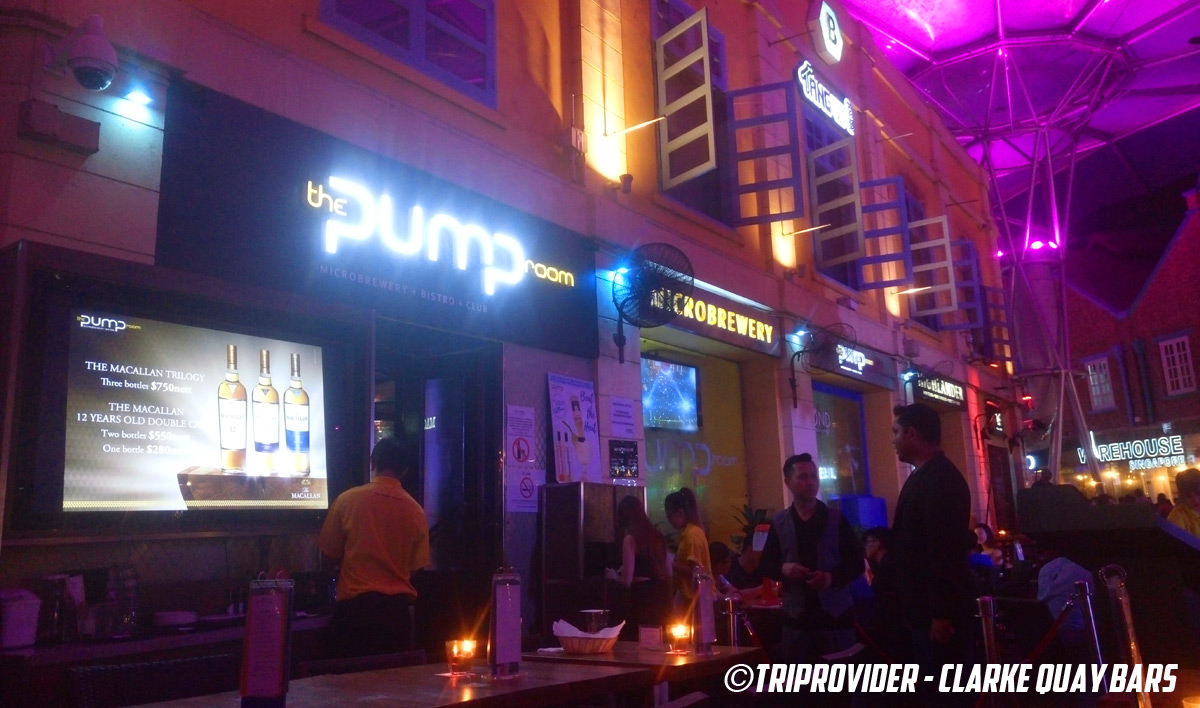 Clarke Quay is a happening place any night of the week!
The place is packed as usual and the wait staff looked overwhelmed and disinterested.
Looking around you can almost hear the groans as tourists open menus and see the prices.
Oh yes, Singapore is an expensive city to wine and dine.
After giving her a few choice words, our waitress finally brings our meal.
We digest our average tasting burgers and finish the last drops from our glasses and hand over $S150.
Oh yes, Singapore is an expensive city to wine and dine.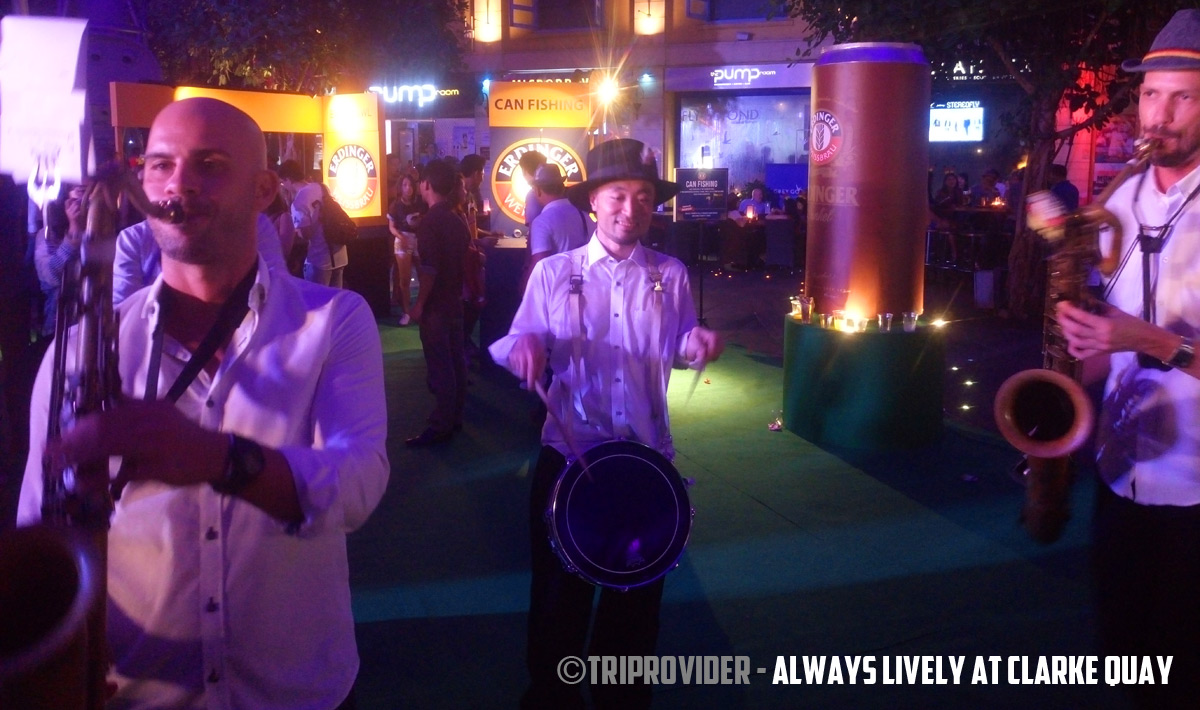 Entertainment Clarke Quay style!
A group of young Singaporean girls are sitting at an adjacent table and are obviously having some pre-clubbing drinks. What we notice is that they will usually buy just the one drink and make it last as long as possible. Further away, a big burly guy is downing beer like it's his last night on Earth.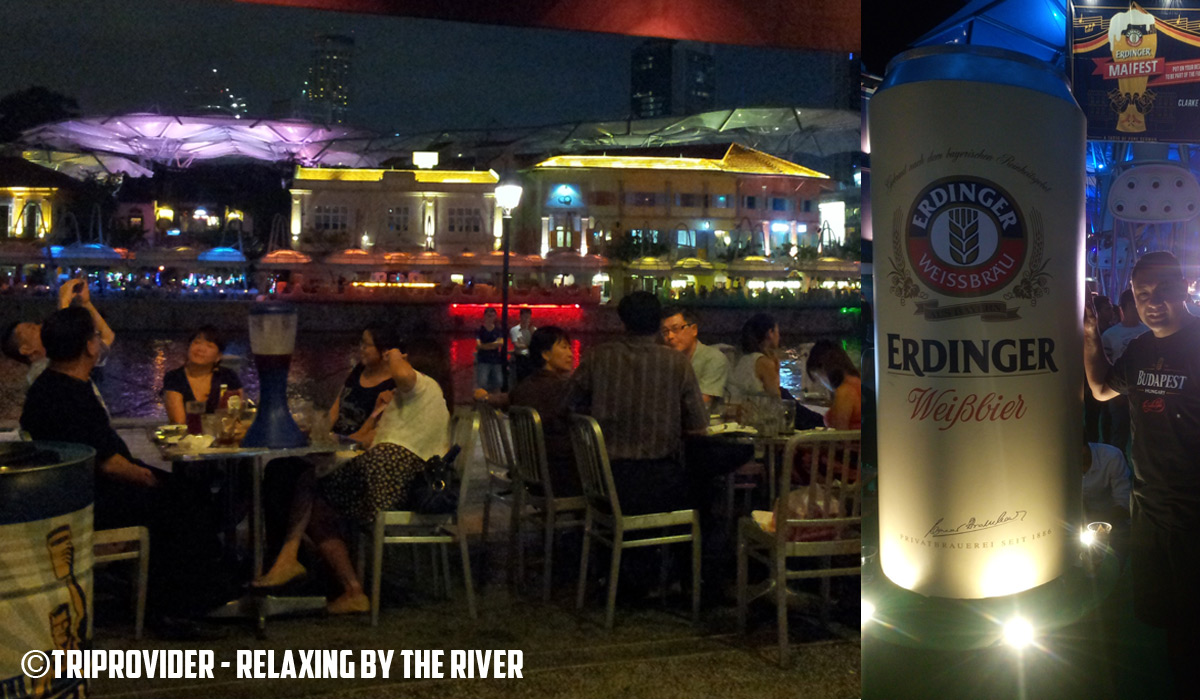 Relaxing by the river at Brewerkz
So what makes Singapore one of the most expensive cities to eat and drink?
Most people immediately point the finger squarely at the government with their outrageous laws and taxes but is this the case?
It's certainly a factor but the added taxes and service charges are just the icing on the cake.
How can I pick up an ice cold Tiger at a hawker centre for $S5 while my hotel is charging me $S15 for the same thing?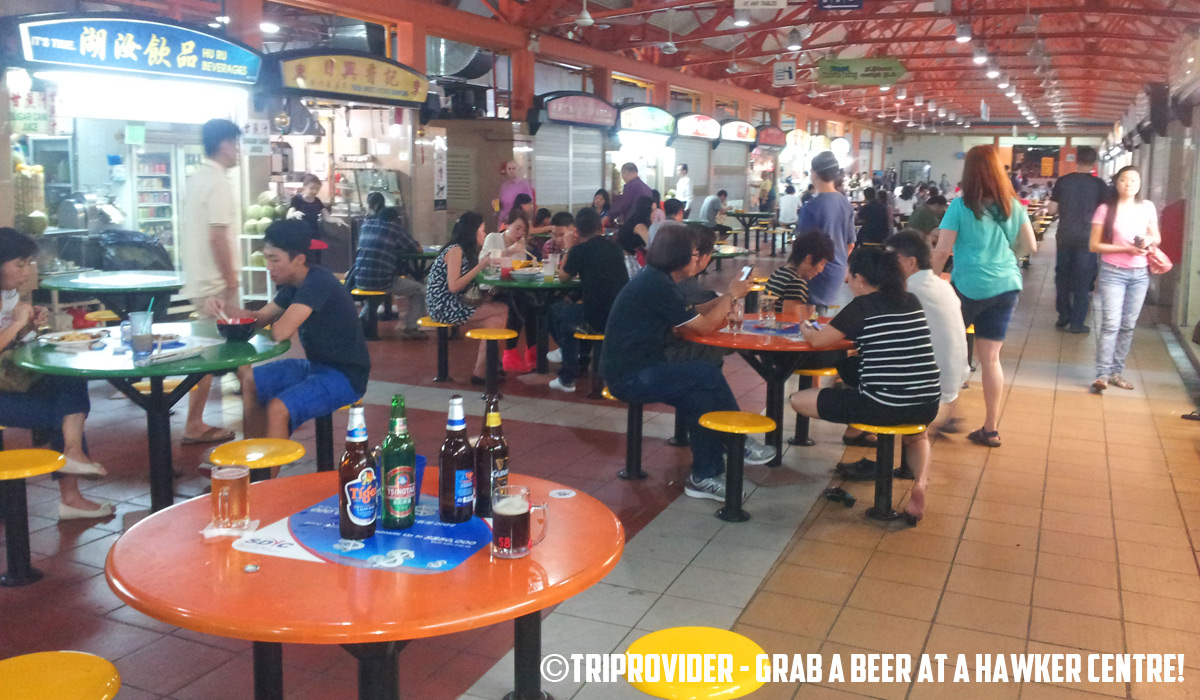 Hawker Centre's are the place to go for cheap tasty meals!
Well first of all a hawker centre will have lower overheads. Rent, Stock, Expenses and Salaries are obviously a lot lower for a stall rather than a fancy bar in Clarke Quay or a space at Vivo City.
If a bottle of Tiger wholesale is $2.00 then a hawker might be happy with a 100% mark-up.
A bar that has spent thousands on a fancy fit-out and furnishings will want to recoup costs and know there are people willing to pay whatever they charge and therefore charge 3-4 times more.
Also a hawker centre is frequented by locals, especially out in the suburbs. The average Joe in the street needs someone to eat as well so prices are set accordingly.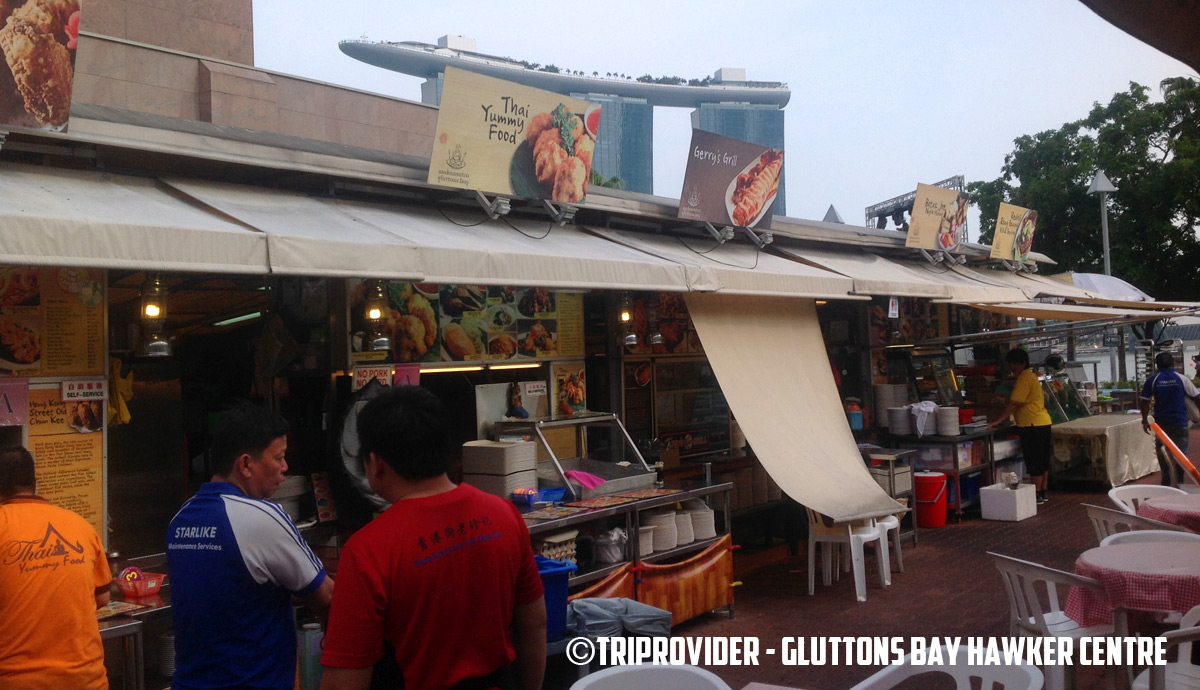 Gluttons Bay has excellent food and views of Marina Bay.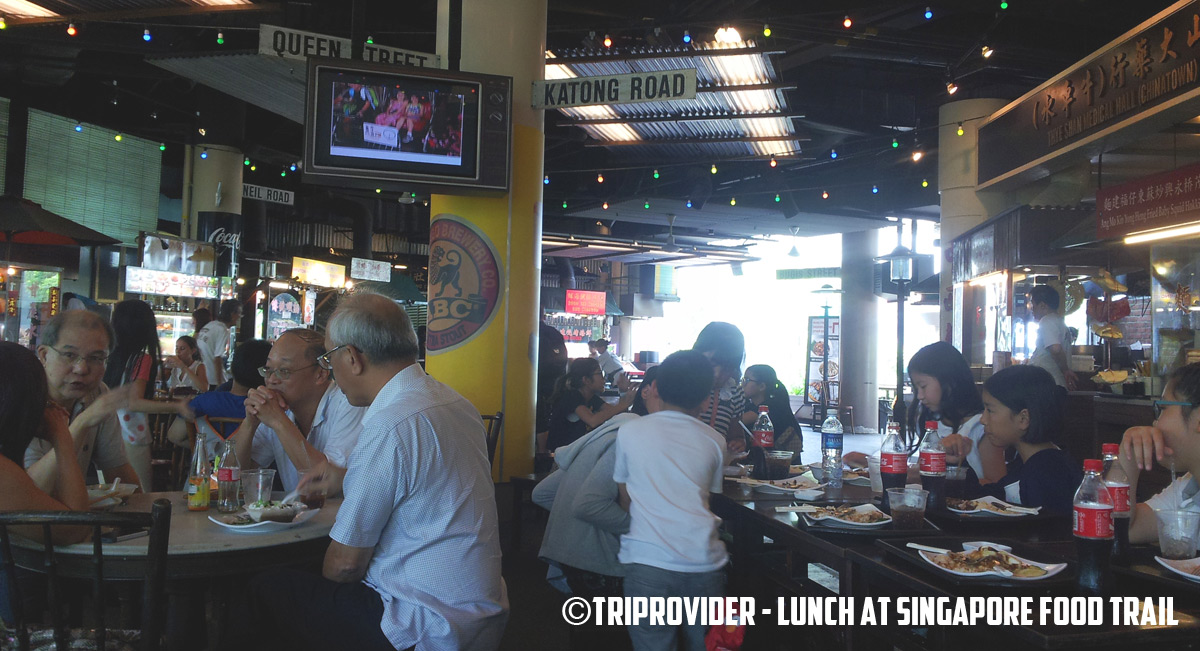 Singapore Food trail also has excellent food and nice views across to Gardens by the Bay
Thirdly, Hotels, bars and restaurants in popular tourist locations and shopping centres are geared towards tourists and locals so prices reflect that.
The corporate high-flyers and trendsetters who trawl cocktail bars after work have the disposable income available and will think nothing of shelling out $S30 for a Margarita.
So the trendier bars and restaurants can charge ludicrous prices according to demand. One Australian we met worked as a security guard on a drilling site somewhere and claimed to earn $150,000 for only a few months' work.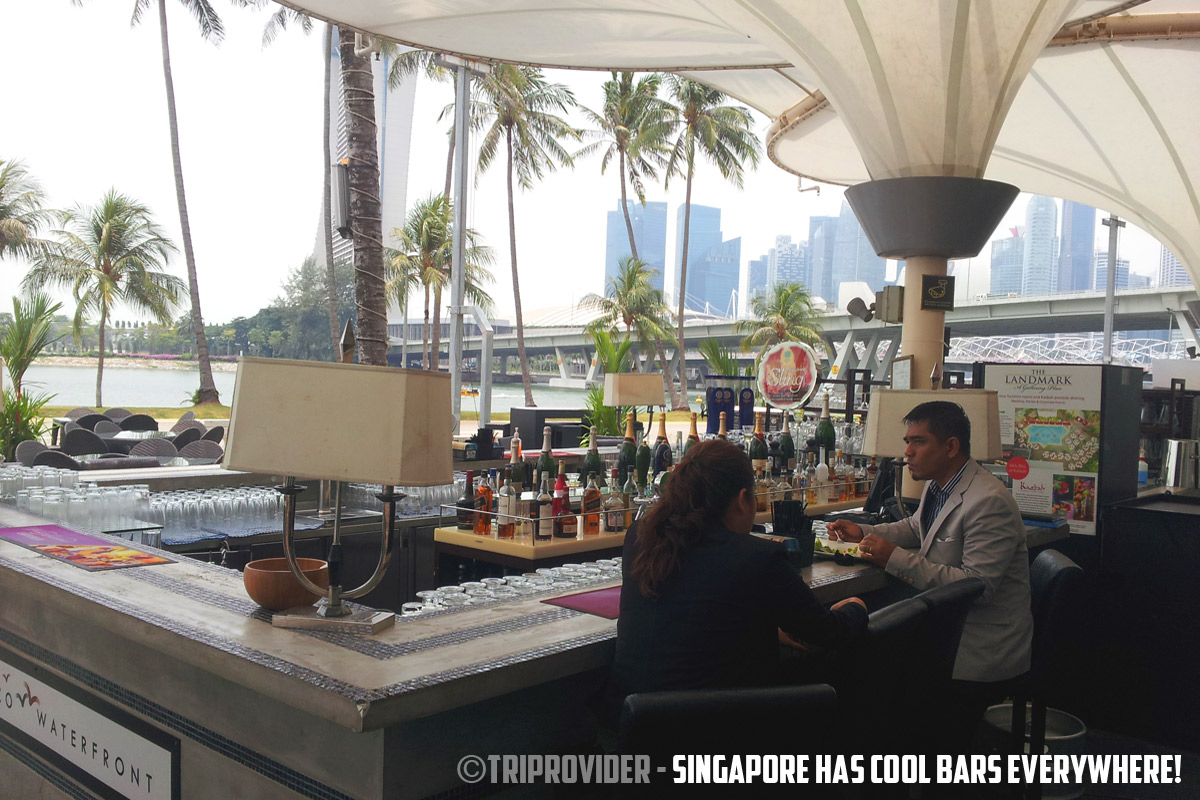 Singapore has many cool outdoor but pricey bars!
So after visiting a few establishments around town we find cocktails at higher end cocktail bars being served at around $20 (G&T) to $25 (Martini).
Happy Hours make the financial pain more bearable and you can expect prices to lower to around $10 (Screwdriver, Tequila Sunrise) to $15 (Martini). At other places like Sentosa for instance standard cocktails can be had for $14 upwards. The famous Singapore Sling can be found at Raffles at a cost of $S31 ($36.50 with tax added).
A half pint of beer at a hawker stall is between $5-$7. Full pint at $7-10.
Somewhere like Brewerks has half pint beers at $7-9.
But fancy restaurants and bars can sell a pint anywhere from $13-$18 before tax.
Happy hours will see pints reduced to $8-10.
But we aren't finished yet, don't forget to add on the dreaded service charge (10%) plus government tax (7%) and the price blows out again.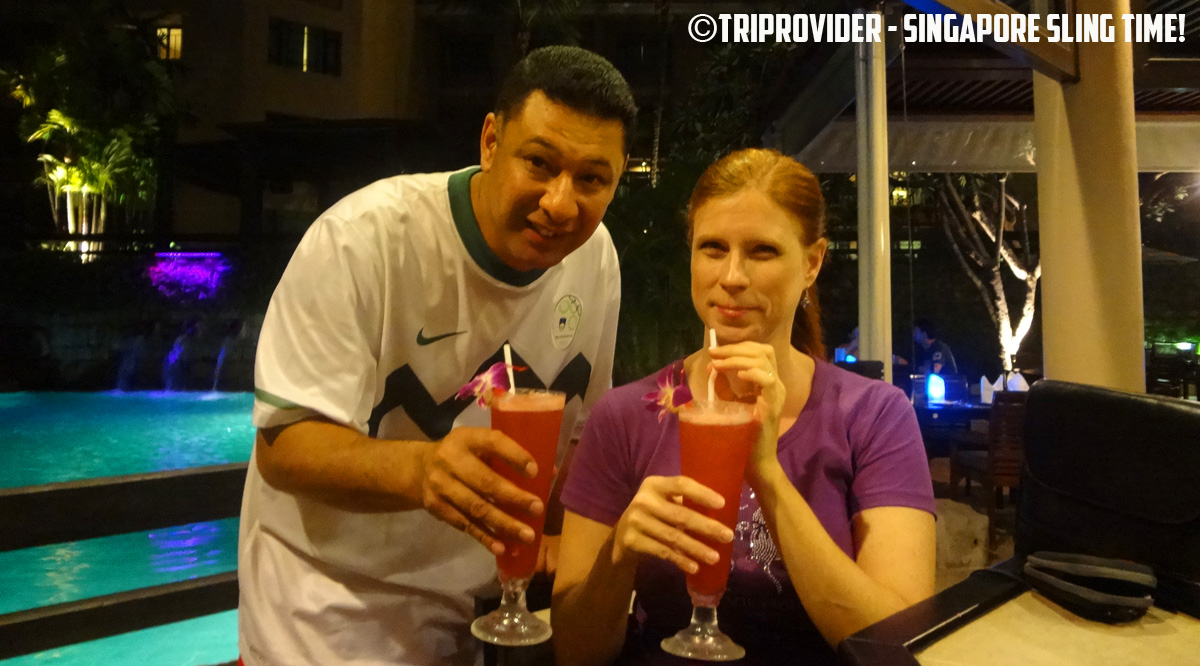 Everyone has to say they had a Singapore Sling whilst here!
Our advice for those looking at enjoying Singapore without breaking the bank:
• Eat and drink at hawker centres. The food is good, the beer cold and the atmosphere brilliant.
• Visit upper market venues during happy hour and shop around for the best happy hour periods as they vary greatly.
• Find restaurants and bars where locals go where the prices will be more reasonable.
• Budget for a splurge if you want to enjoy a Singapore Sling or full-on night on the town.
• For private consumption, Alcohol is also cheaper at a 7-11 or supermarket.
• If you can stretch the budget to include lounge access at your hotel, you can enjoy free alcohol and snacks during their happy hour periods.
Singapore is an amazing place and has so much to do and see. But with prices for accommodation, transport, activities and food and drink to consider, You may need to draw up a daily budget and plan accordingly to suit your needs. Have a great time!
• All prices are estimates gathered at time of writing.
In conclusion, prices for alcoholic drinks are slighter higher than most of the worlds other cities due to business costs. Adding on the service charge and taxes only exacerbates the cost. In places like Australia the GST will already be included in the price at $5.50 per half pint to around $10-13 per pint as an example.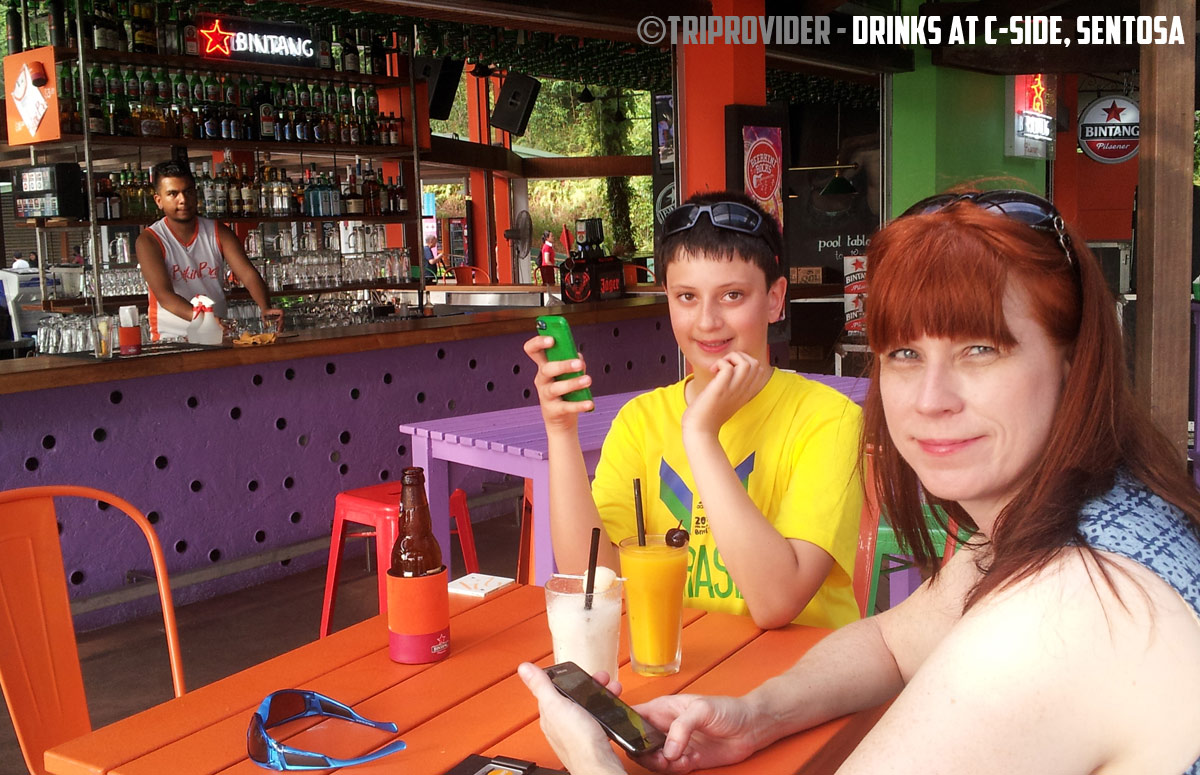 Drinks on Sentosa with a cool breeze and sea views, nice!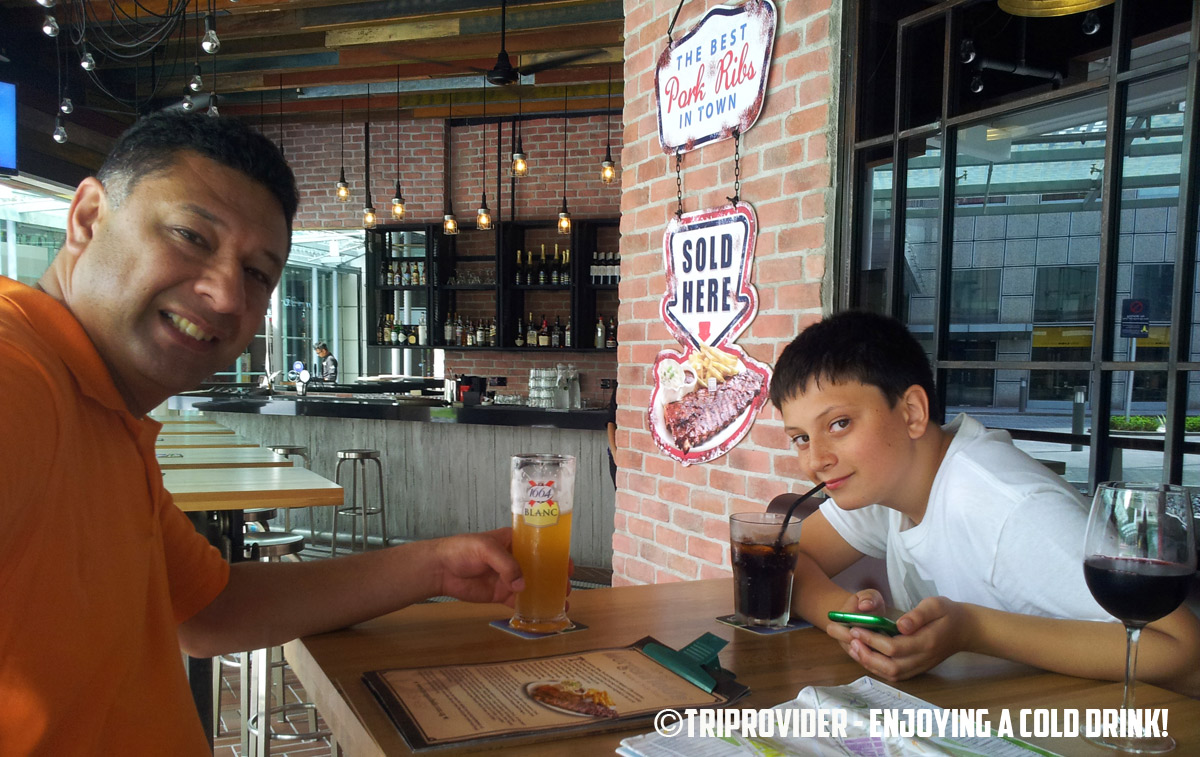 Do you want to be featured on Triprovider?
Triprovider invites you to submit your trip reports and share your experiences!
We are also keen to partner with local travel writers and companies.
Visiting Singapore soon? Book a service here today!
Greg Kodric is an avid traveller who loves nothing better than a good wander around the streets and back streets of each new destination he visits. "I enjoy sitting somewhere with a local brew and just watching the locals get on with their daily lives. It's fascinating to explore the sights, sounds and smells of somewhere new. As well as visiting the usual tourist attractions, I like to compare the differences between places, the brands and products on offer and of course the local cuisine. I hope you enjoy my blogs!"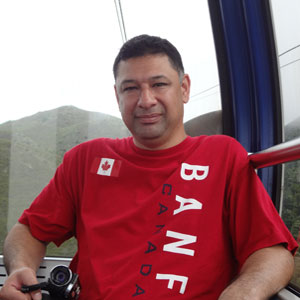 Have a question on Singapore? – email us at info@triprovider.com
Now it's your turn! – Have you been here? Like to know more? Like to comment on this blog?
Please leave a comment in the box below, we're waiting to hear from you!