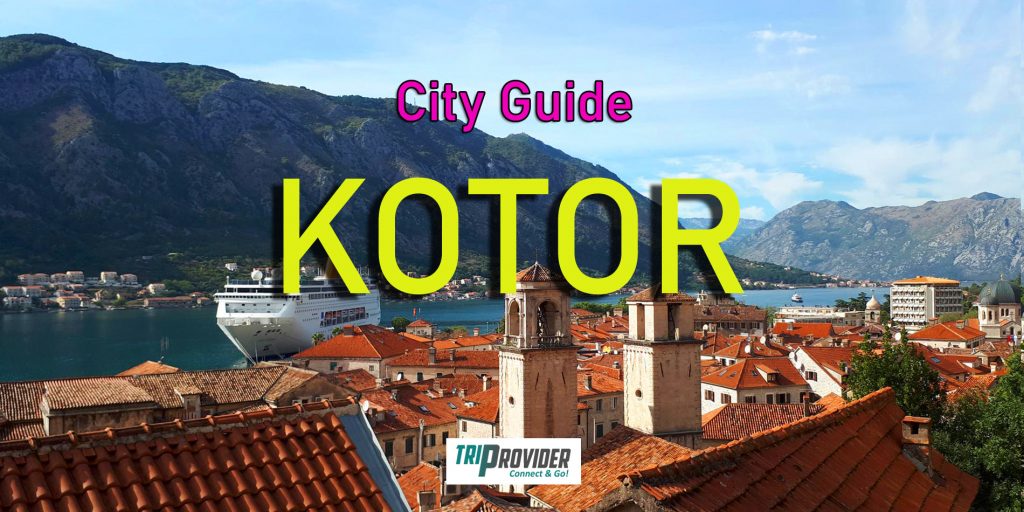 Why Visit Kotor, Montenegro?
Sitting at the end of one of the most visually stunning bays in the world is reason enough to visit.
The walled medieval old town of Kotor is small but immensely charming and captivating. You will love exploring the cobbled lane-ways where you can visit museums and churches and shop to your hearts delight. Needless to say there are also many fine restaurants and places to grab refreshments.
For the adventurous climb the old city walls high above the city for the most amazing views of the bay, mountains and city below. Kotor is a great choice as a base for those exploring the coast. You will love Kotor and Montenegro!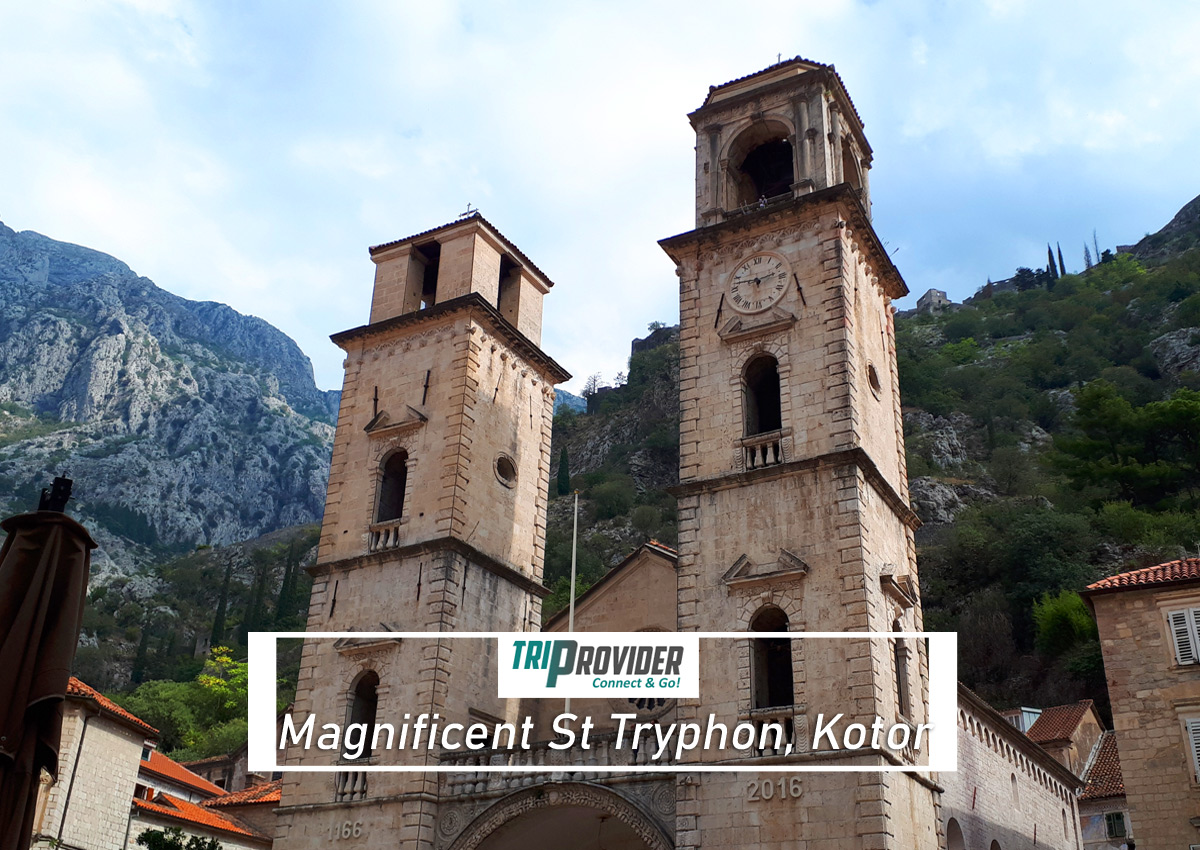 What to see and do in Kotor, Montenegro?
If you do not get excited at the sight of the majestic Bay of Kotor set below towering mountain cliff-faces then you will need to see a doctor. The unfolding of this wonder of nature alone will keep you in awe for a few days. Beyond that the town gates of Kotor invite you to sit back, relax and unwind.
The city is an exciting maze of narrow laneways that hold boutiques, accommodation, museums and dining options. The alleys open up at one of the many town squares where you can people watch at a local restaurant or just admire the beautiful architecture like St Tryphon's Cathedral. Every now and again you get a glimpse of the fortified walls that climb the steep rockface above Kotor and gives Kotor a most dramatic effect.
Do you like amazing views? Of course you can climb the walls to the top for jawdropping views of the city, bay and mountains. Kotor is heaven for cat lovers as hundreds of cats make Kotor their home. There is even a museum dedicated to them!
Find time to walk along the waterfront as well to admire Kotor Bay. When you have exhausted your activities in Kotor, take day trips to Perast, Budva, Sveti Stefan, Njeguši and Mount Lovcen. See you in Kotor!
Book Kotor Bay Tours Here
How do I get to Kotor, Montenegro?
Road – If you have a car then depending on where you are coming from you can approach from Dubrovnik via Herceg Novi, or from Mostar via Bileca or Tirana from the south. If arriving from the capital Podgorica then you have 2 routes – via Petrovac which is a more scenic route over Lake Skadar and with views of Sveti Stefan. Otherwise take the more direct route straight to Budva.
Transfer – If you don't have a car then of course contact Triprovider at info@triprovider.com as we have great partners who can provide an excellent service anywhere in Montenegro and beyond. Podgorica Airport to Kotor, Tirana/Mostar/Dubrovnik to Kotor are common journeys. Dubrovnik to Kotor average – 2/3 hours. Mostar to Kotor average – 3.5 hours. Podgorica to Kotor average – 1.5 hours. Tirana to Kotor average – 6/7 hours. Sarajevo to Kotor 9/11 hours.
Air – As above, if you are arriving into Podgorica Airport (which is the main airport) and need to get to Kotor, then contact us for a transfer. Podgorica Airport is serviced by many European airlines, see their site for flights. Tivat Airport is a smaller airport and much closer to Kotor but serviced by fewer airlines but would be a better option. See their site here. Of course you can also rent cars from the desks at both airports.
Ferry – Montenegro Lines operate ferries between Ancona and Bari (Italy) and Bar (Montenegro). Check their site for details. If the schedule is not right for you, you may want to go to Dubrovnik first and drive to Montenegro.
Cruise Ships – Hundreds of these dock in Kotor every year so if you want to visit Kotor you only need find a cruise that stops there. Depending on how many ships arrive on one day, you may dock right at the dock, or you may have to wait out in the bay and be ferried in which erodes into your sightseeing time a little.
Bus/Train – You can reach Kotor by International bus. Zagreb, Split and Mostar via Dubrovnik to Kotor. Dubrovnik to Kotor average – 2/3 hours. Mostar to Kotor average – 6 hours. Podgorica to Kotor average – 2 hours. Tirana to Kotor average – 6/7 hours. Sarajevo to Kotor 9/11 hours. Please note there is no direct bus or train from Podgorica Airport so you need to travel into the centre first.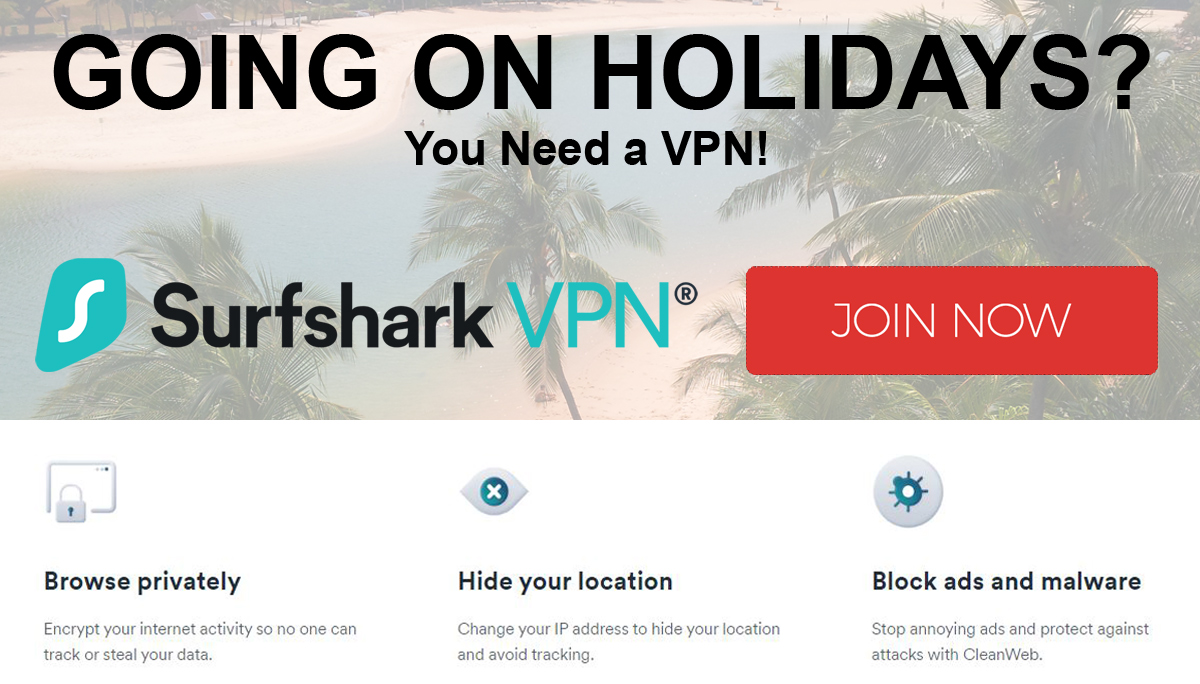 When is the best time to go to Kotor, Montenegro?
The best time to visit Kotor and Montenegro is during the shoulder or off-season (May-June and September-October). It is still fairly warm and there are less tourists and schoolchildren giving you room to breathe and enjoy the sights.
July and August are peak summer holiday season so best avoided if you can due to the crowds and heat. Kotor and the coast is crowded with tourists and beachgoers and youngsters revel in the nightlife, beach parties and music festivals. Of course some people enjoy the height of summer so if you do plan coming at this time then definitely pre-book early!
The rest of the year (November-April) is of course colder with a lot of rainfall in certain places plus all tourist activities are closed. If you like to ski then you can head to the resorts in the Durmitor National Park. If you choose to visit Kotor you will definitely be one of the "locals"!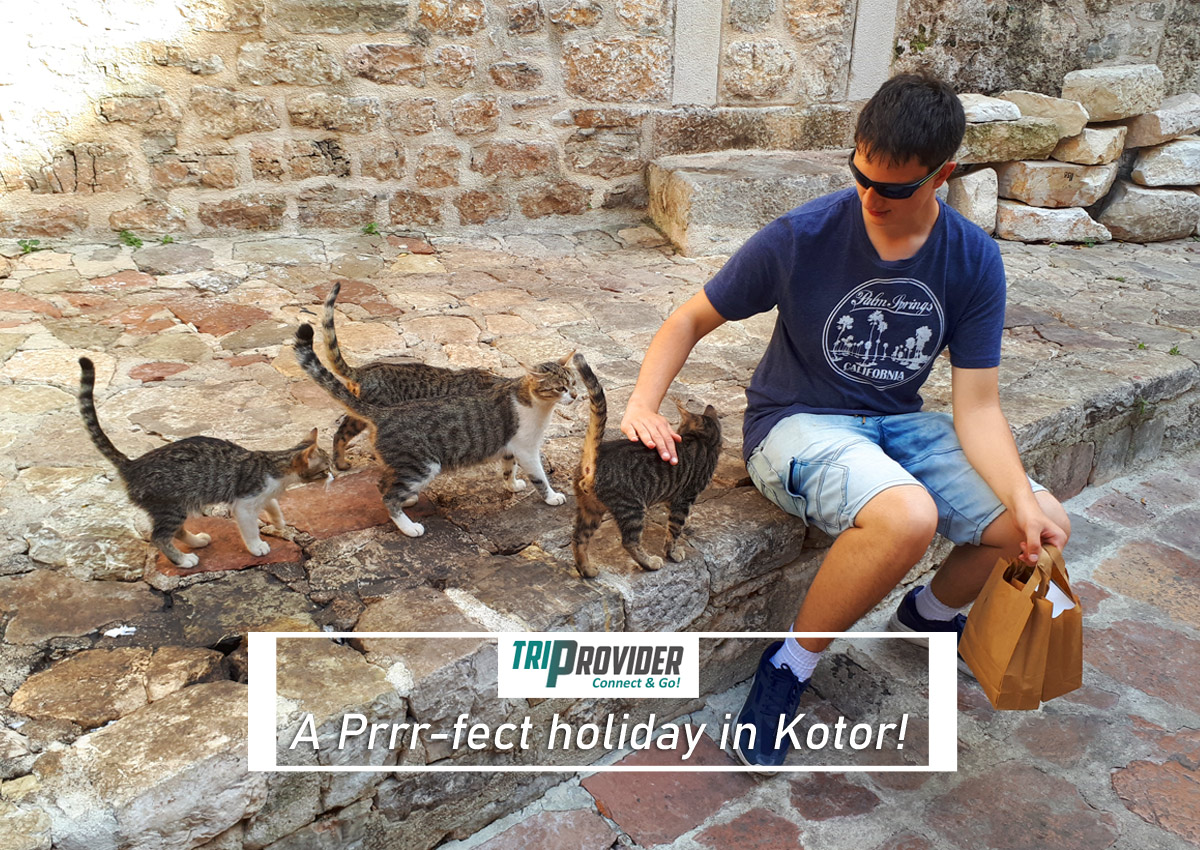 How do I get from the airport to to Kotor, Montenegro?
TRANSFER – The best way if not renting a car is to book a transfer through our partners here at Triprovider. They will provide modern cars (some luxury models too) with English speaking drivers . Email us for a quote. Journey is about 1.5 hours from Podgorica Airport and about 30 minutes from Tivat Airport. There is also the option from Podgorica of the scenic route past Lake Skadar and Sveti Stefan which is recommended!
CAR RENTAL – The traffic is chaotic and fast moving in Montenegro with very little sympathy for the timid. If this and the poor state of some of the roads doesn't phase you then you can rent a car either pre-booked or from the desk when you arrive. We can recommend our partners at Zest Car Rental for good customer service!
There are no bus or train services available.
Where do I stay in Kotor, Montenegro?
You can stay right within the walls of the old town if you desire. and there are about 100 apartments, guest houses, hostels and hotels to choose from. Although being in the heart of the action is a good feeling, also consider the noise from bars, cafes and early morning garbage collectors! 
A good alternative is Dobrota which is a suburb just north of the city with stunning views onto the bay. Again there are many hotels and apartments available and this is a quieter option if you like to have morning walks along the waterfront before heading off for some sightseeing.
I'm here! What's a good itinerary for Kotor, Montenegro?
If you have checked in or don't have luggage then upon arrival dive right in and explore the Stari Grad or Old Town Kotor.
DAY 1
– Take the obligatory photos at the main gate and pick up a map and guide from the tourist kiosk there.
– Most people travel in an anti-clockwise direction when exploring first time. Take in the palaces that line the narrow alleyways before basking in the sun when arriving at one of the many squares. The Cathedral is very impressive and so is St Luke's Church further around.
– Spend the day getting lost in the maze of laneways and exploring at your whim. Perhaps visit the Cat Museum which is an odd thing you may think before noticing that the place is besieged with stray felines posing for holiday snaps. This is a haven for cat lovers!
– Stop for lunch or just a drink at the many dining establishments that dot the squares and alleys. Browse the myriad of shops selling the usual tacky souvenir or perhaps some real local hand-made wares. The Palace of Living History is a fun re-enactment of medieval times and also contains a cool little bazaar.
– Explore history by entering historical buildings like the palaces museums and churches. Don't forget to visit all 3 gates.
– Find a nice vantage point for photos of the old town, the towering cliffs behind it with walls and of course the captivating bay.
– At night have dinner and a night stroll. The town takes on a different feel by night and a lot of the daytrippers have gone.
DAY 2 
– Start early and climb the path to the top of the fortified walls that surround the city. Its a hard slog so take your time. Its worth it as the views are amazing from the top! You will probably need a few drinks upon return!
– If climbing is not your thing then we recommend the half day trip to Perast and the Lady of the Rock. For history buffs the nearby town of Risan has unearthed a plethora of roman relics with the mosaics being the major drawcard.
DAY 3
– Other day trips include Budva for some beach action and visiting their old town. Tivat is also a nice choice and has many waterfront restaurants. Of course you can go further afield as well to Cetinje/Lovcen and Ostrog Monastery. So much to do and see!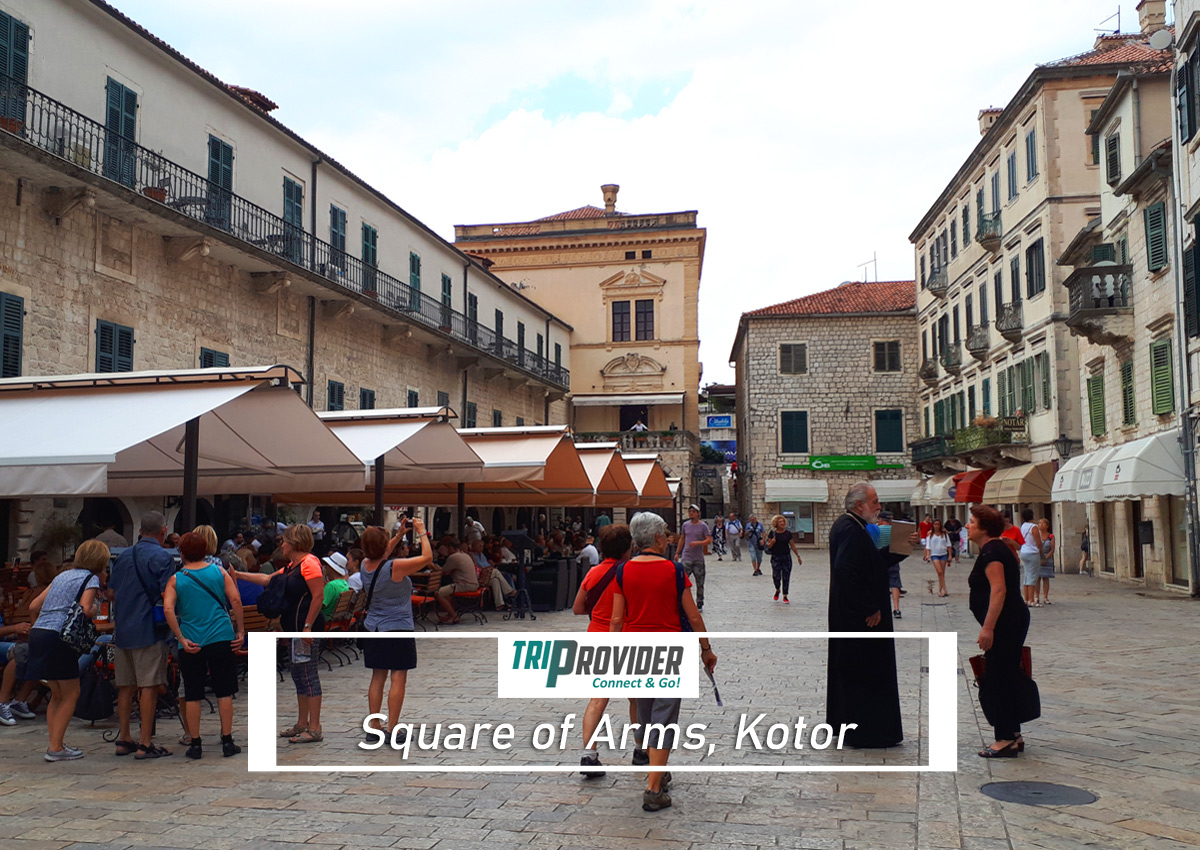 Tips, Facts and recommendations for Kotor, Montenegro
– Climb the city walls early to beat the crowds and heat. It can become very crowded later on and the path is quite narrow in places!
– You will notice that the clock tower is leaning after earlier damage but the foundations have been strengthened Pisa style!
– Check for stores returning torn bank notes as these are not accepted in stores. The bank, if accommodating can replace a torn note.
– In restaurants check the value of portion sizes by weight to see if they are value for money (eg fish dishes, steaks)
TOURS/TRANSFERS? – Looks so beautiful! I want to visit but we won't have a car – No worries, here at Triprovider we have the best partners in Montenegro. You can book an exciting day tour with or without activities or you can just book a transfer if you want to visit for a few days. We have partners in Kotor who are experts so contact us today! – Email at info@triprovider.com

VISITING SOON? BOOK A SERVICE HERE TODAY!

Have a tip or update for us? – email us at info@triprovider.com
Now it's your turn! – Have you been? Like to know more? Like to comment on this guide?
Please leave a comment in the box below, we're waiting to hear from you!