Driving the Vršič Pass, Slovenia – Which direction is best?
We often get asked which direction is better? North to South or South to North? Bovec to Kranjska Gora or Kranjska Gora to Bovec?
Read on for our review and analysis and hopefully then you can make a more informed decision. Happy driving!

The Vršič Pass in the Triglav National Park is a very pleasant drive on a nice day with gorgeous views of the Julian Alps set amongst calm alpine forest which open up to the enticing valleys below.
The Vršič Pass therefore features in many itineraries as people do the loop from Ljubljana/Bled/Kranjska Gora to the Soča Valley and then onwards to the coast or back to Ljubljana, or the reverse from Bovec to Bled and onwards to Ljubljana. One of the main drawcards for visiting the stunning Soča Valley is for adventure activities like white water rafting and skiing on Mt Kanin.
Staying in Bled or Ljubljana? Book an exciting day tour to the Soča Valley and Vršič Pass. Experience the majestic towering Julian Alps and the emerald green famous Soča River!
Click here to book – DAY TOURS from Ljubljana or Bled!
You've made it! This is the top of the Vršič Pass at 1611 metres!
So how did the Vršič Pass come to be? Well there was always a path here of some description that local farmers used but it was only during the First World War that things got serious and Russian prisoners captured by the Austrians were sent in to build a supply road for the soldiers caught in the trenches of the treacherous Soča Front. Reminders like the Russian Chapel and decaying bunkers are a testament to this brutal battle.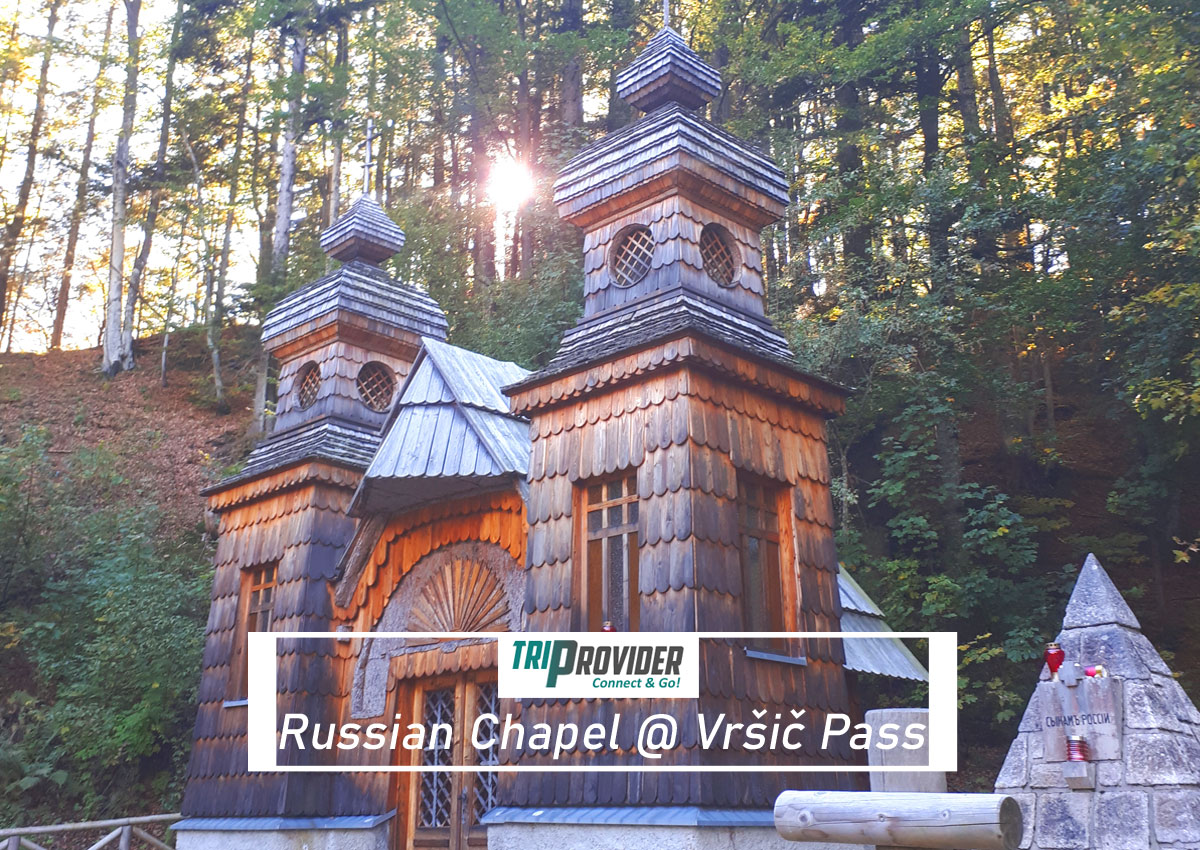 The beautifully made and haunting Russian Chapel
The 50 hairpin bends are easy enough to navigate except for traffic in summer time (think campervans and buses), bad weather in winter and cyclists all year round who can make passing a chore.
When it snows they close the pass so it can be closed from even November to May but with the weather being so unpredictable these days, conditions change daily so check before attempting the drive. If it is closed, the Predel Pass is a beautiful option with the added bonus of crossing into Italy before you double back into Slovenia.
There are various places to stop to take photos like at the top (1611m) and below Mt Špik. The Russian Chapel should not be missed and there are many restaurants along the route to stop for lunch and drink in the delicious fresh alpine air.
Looks so beautiful! I want to visit but we won't have a car – No worries, here at Triprovider we have the best partners in Slovenia. You can book an exciting day tour with or without activities or you can just book a transfer if you want to visit for a few days. We have partners in the Soča Valley who are experts so contact us today! – Email at info@triprovider.com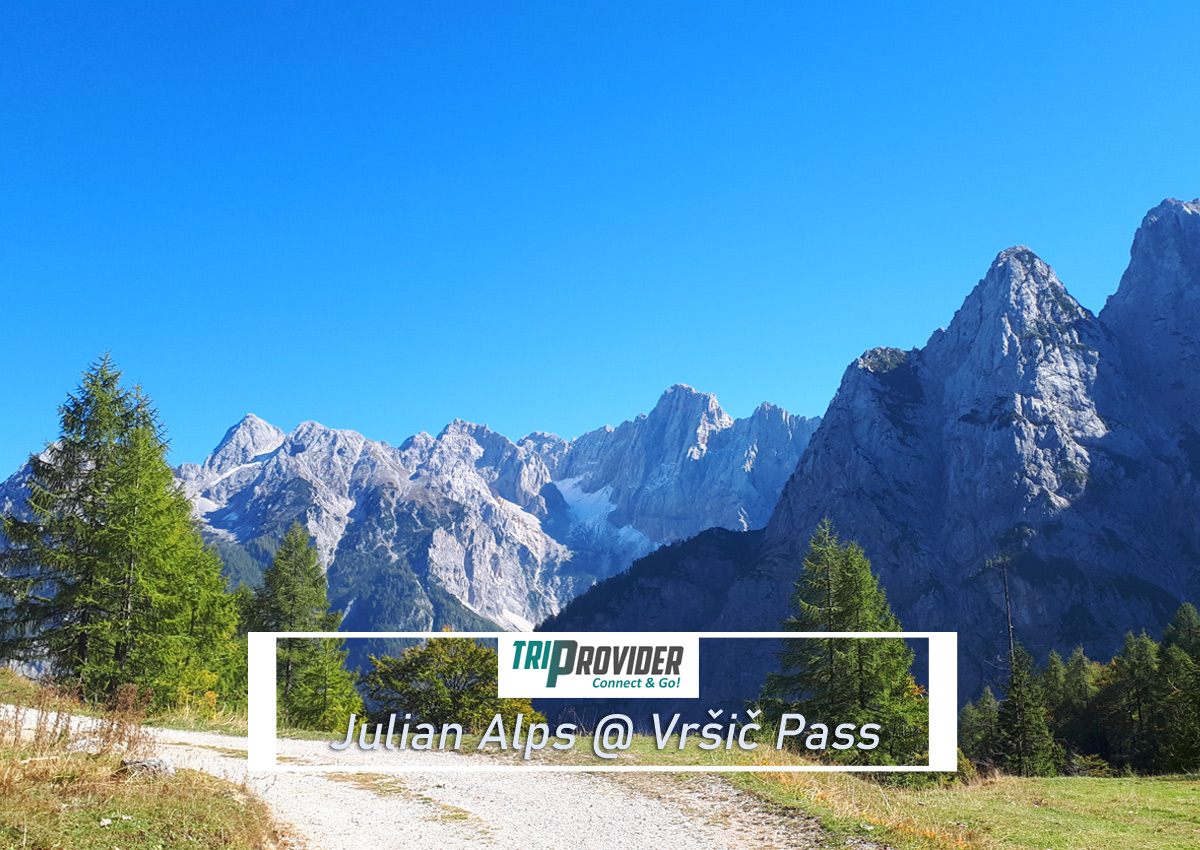 From the summit and near the summit there are several hiking trails
So which way or direction is best?
To be honest, the alpine tree line will obscure a lot of the jaw dropping views when driving in either direction (moreso on the Kranjska Gora side which is heavily forested).
The best advice if you have the time is to take your time and spend the day on the pass. We have listed recommended stops further down but you can pull over anywhere there is space and really admire the views.
Take your time to get the best photographs before moving on. In this respect if you make frequent stops it really doesn't matter which way you come.
A slight advantage for starting from Kranjska Gora is that you won't miss the Russian Chapel (which is easy to do coming the other way as you don't see the chapel or the car park clearly) and the views coming down into the Soča Valley (north to south) are better than descending into Kranjska Gora the other way.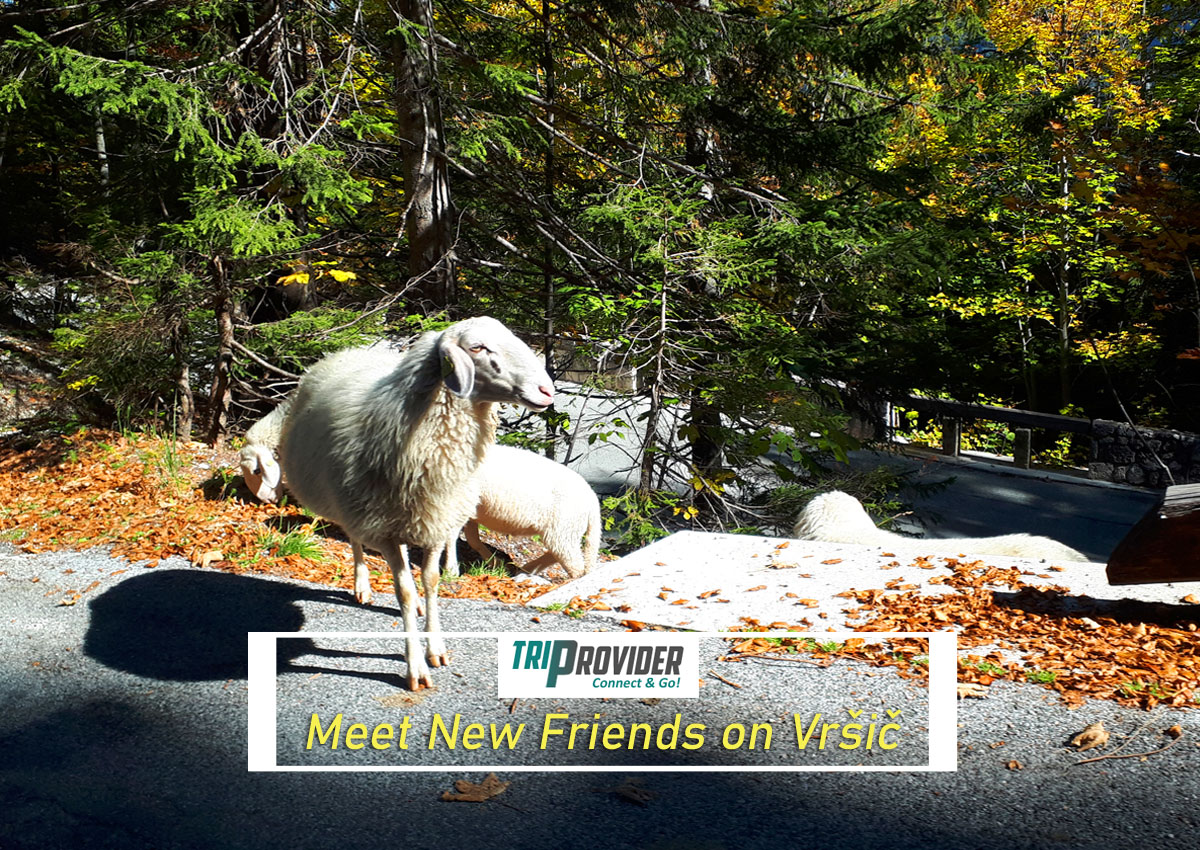 Cyclists, other vehicles and furry friends may slow you down over the pass!
Here is a run down of recommended stops on the pass:
Turn 4 – has some nice mountain views
Turn 8 – Russian Chapel is a must see and a really beautiful building considering the circumstances.
Turn 15 – nice views
Turn 16-17 – look for the "hole" or window in the mountain face and the face of the "Pagan Girl Ajda" in the rock.
(Take the hike from the summit to the Postman's Lodge for a closer view or from Erjavčeva koča at #22)
Turn 17 – stone stacks (interesting stop)
Turn 22/23/24 – nice views as you approach the top plus stop at Erjavčeva koča for lunch!
Top of Vršič – you've made it! 1611m. Stop for photos and maybe buy a souvenir. Hike to the Postman's Lodge or further for closer views of the Alps. Also a starting point for longer hikes.
Turn 28 – WW1 Tunnel and stunning views of the valley
Turn 39/41/44 – have nice views as you come down into the Soča Valley
Turn 48 – Statue of Julius Kugy, a famous botanist
Turn 49 – turn off for start of hike to the source of the Soča River (a dangerous but intriguing climb with guide-ropes)
We would recommend north to south. We would assume most people leaving Bled/Kranjska Gora to reach Bovec would be leaving early to make the most of the day. You could do a short hike near the top before lunch to take in the mountain air!
If you leave early you will have sun in the east or on your left from Kranjska Gora and if you leave late afternoon you will have sun on your left and in your eyes when coming from Bovec. At midday the sun is pretty much directly overhead but views from the top are often hazy during summer.
NEED A CHEAP TRANSFER?
Need to book a transfer to Kranjska Gora, Bovec or anywhere else? Use Goopti for the CHEAPEST shared transfers!
Click here and enter your details for a quote – GOOPTI TRANSFERS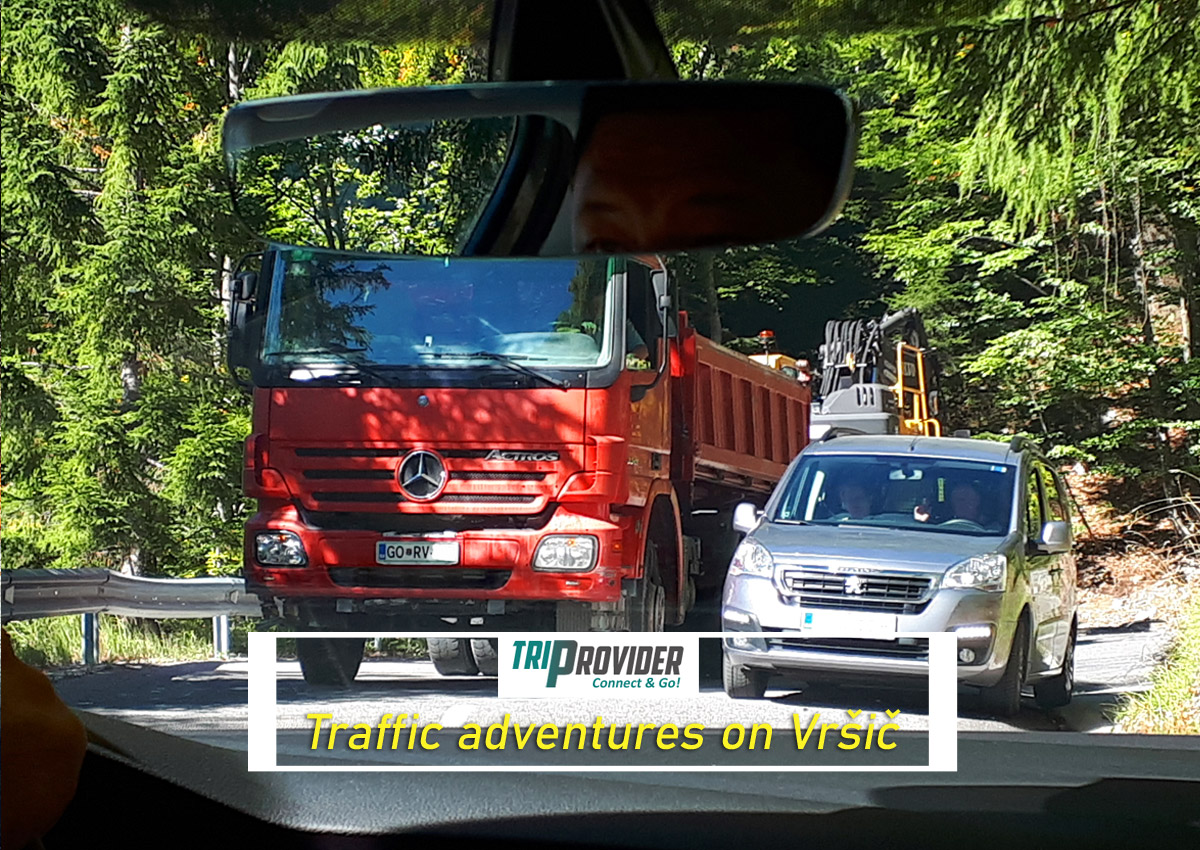 Roadworks and dealing with oncoming traffic can be an issue on such a narrow road.
Welcome to Slovenia's only National Park, Triglav.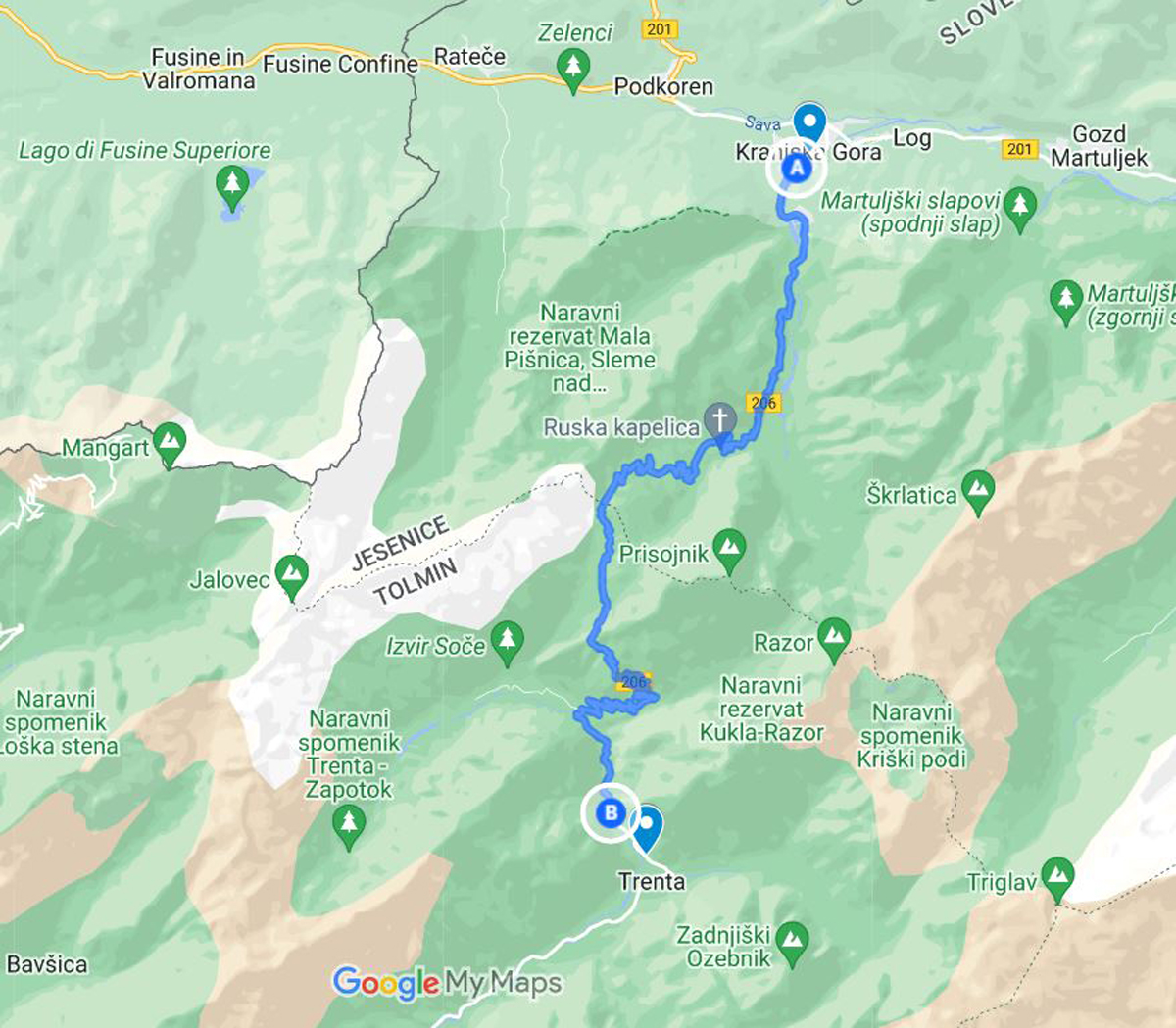 What is it? – A drive over the Vršič Pass which joins the Soča Valley with the Kranjska Gora on the other side.
Where is it? – Situated in North-West corner of Slovenia, The Vršič Pass is located in the Julian Alps and the Triglav National Park. The road starts after Kranjska Gora (or Trenta on the other side). Lake Bled is about 45 minutes away and 2 hours from the capital Ljubljana.
When is it open? – The pass is closed during the worst of the winter weather (so about November-March) but opens quickly if the weather improves and the road can be cleared of snow. Check www.promet.si for the green light! The Predel Pass is a great alternative.
Why do it? – For those who love the fresh alpine air and stunning mountain views then this is a great day out. Very popular with hikers and cyclists.
How long is the drive? – 1 hour if you don't stop (30 up and 30 down) – but you obviously will stop so factor in at least 2 hours or even a half day if you stop for lunch and a hike.
Is it dangerous and steep? – No, the Vršič Pass is pretty tame compared to passes in Switzerland and Austria for example. If you are a novice driving a manual car, then it will be challenging going over, especially if you need to stop for traffic etc. In an automatic it is a smooth drive. In a campervan it would be an interesting ride depending on your manoeuvring skills but many go over every day. The gradient is average and there are a few spots where there are drops to the side but even for an average driver it shouldn't present any extreme issues. Just be vigilant and take it easy, especially in bad weather (rain, snow) where it is not advisable to attempt the pass if you can avoid it!
Tips for driving the Vršič Pass: –
1. Roadworks – They are constantly repairing and trying to widen the road so it is common to see a line of cars waiting for the green light when only one lane is in use. Be patient and obey the workers instructions.
2. Other Drivers – Morons will be morons so look out for impatient drivers who will have no qualms in cutting you off and overtaking. Also watch out for them speeding around corners from the other direction.
3. Cyclists, Cattle and Sheep – You may also get stuck behind cyclists for a while before an opportunity to pass occurs. You may come to a complete stop if sheep or cows are crossing!
4. Cobble Stones – No-one is quite sure why the Kranjska Gora side has cobblestones but many say for traction or just aesthetics? Anyhow, they make it a little bumpy going up.
5. Larger vehicles – Campervans and Buses are common over the pass and of course they take up the whole road so a little (or a lot) bit of squeezing is necessary in these cases.
6. If coming from Bovec, don't miss the Russian Chapel on turn 8 as the signage is non-existant!
7. Weekends – Try and avoid weekends if possible as everyone wants to be up here in good weather!
8. Eating/Toilets – A number of good mountain hut chalets serve great food along the way during high season. They may be closed during the off-season when demand drops off. Good place to stop for the WC also.
9. Parking – Parking at the Summit is limited and is usually full on a nice day. Find a spot where you can but you may need to park further down the road is nothing immediate is available.
VISITING SOON? BOOK A SERVICE HERE TODAY!
Greg Kodric is an avid traveller who loves nothing better than a good wander around the streets and back streets of each new destination he visits.
"I enjoy sitting somewhere with a local brew and just watching the locals get on with their daily lives. It's fascinating to explore the sights, sounds and smells of somewhere new.
As well as visiting the usual tourist attractions, I like to compare the differences between places, the brands and products on offer and of course the local cuisine. I hope you enjoy my articles!"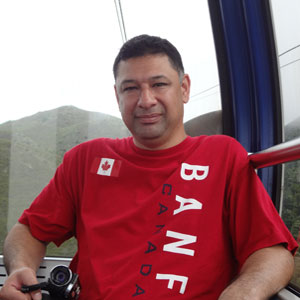 Have a question regarding this trip? – email us at info@triprovider.com
Now it's your turn! – Have you been? Like to know more? Like to comment on this review?
Please leave a comment in the box below, we're waiting to hear from you!