Lake Bled, Slovenia – A Walk Around Paradise
Looking for one of the most magical settings in Europe if not the world?
Picture this then –
A placid lake with waters shimmering in shades of turquoise and aqua blue, complete with its own centrepiece island containing the cutest baroque church.
Towering over the lake is a postcard perfect medieval castle perched precariously on a rocky bluff with stunning views in all directions. The snow capped Alps in the background complete this dreamlike scenario.
Welcome to Lake Bled, Slovenia
Lake Bled is definitely an optical overload of romantic fairytale images and a walk around the lake is one of the most pleasurable things you could ever do.
The one hour stroll turns into a carefree afternoon if you include the countless photo opportunities and refreshment breaks.
We start our walk near the township proper and hike past the Hotel Toplice which is one of the more luxurious options in town with its lake views and indoor spa.
A duck is sunbaking nonchalantly on the banks of the lake and is soon joined by a beautiful swan who has crossed our path and is not perturbed by human encroachment.
Views of Bled town with the Hotel Toplice on the right.
Pletnas waiting peacefully for patrons to take to Bled Island.
There is a build-up of activity as we reach the suburb of Mlino. Busloads of frenzied package tour participants are almost falling over each other in a panic to secure the best seats on the waiting pletna boats. Once full, the pletnas move off with gusto as if a prize awaits them on Bled Island.
Ahead on the left are the gates that lead to the acclaimed Vila Bled. Much is made about how Tito spent many a summer here and it is not hard to see why. We break for coffee and pull up a pew on the hotel terrace.
Enjoy coffee on the terrace, Vila Bled
The Far End (Western) of Lake Bled
The far western side of the lake provides ample opportunities to snap the island with church spire and the commanding castle and Alps in the background. Through the clear waters we also enjoy a moment watching lake fish darting effortlessly back and forth with a purpose that only they know.
The human presence intensifies as we hear screams of young voices frolicking in the waters around Camp Bled. A hugely popular place in the peak holiday season, it provides campers with the most awesome views and puts on many activities to keep the masses happy.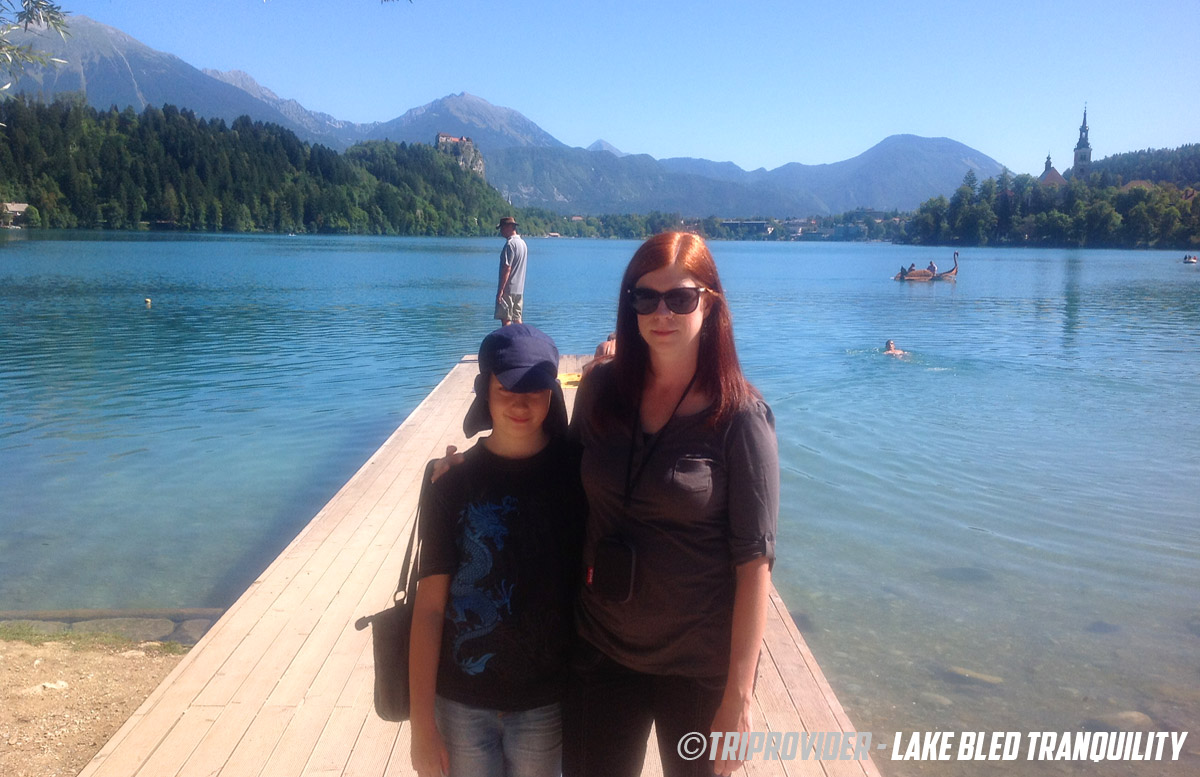 The Western side of Lake Bled has plenty of water activities to keep you busy!
Browse and Pre-Book Tours round Lake Bled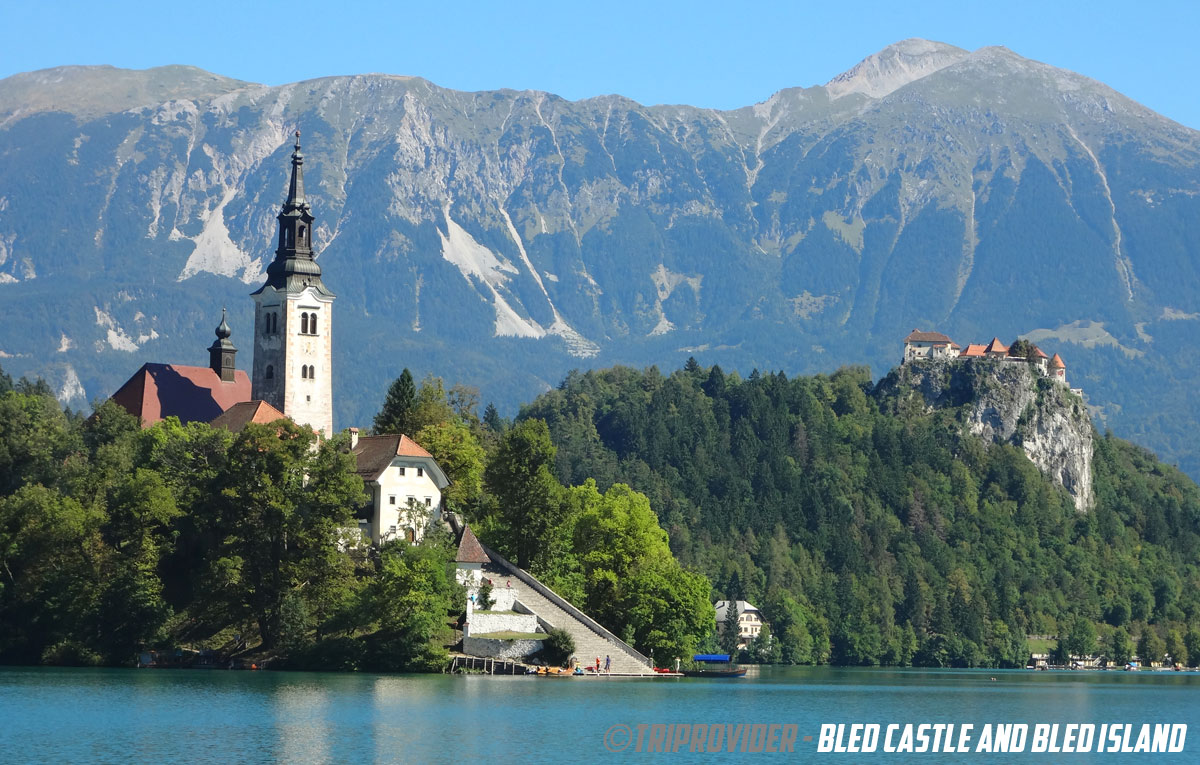 Stunning views of Bled Island and Bled Castle.
A chance to also stop at Penzion Zaka for a cool beverage. A film crew beside us is no doubt filming a travel series proclaiming Slovenia as the next hidden gem!
Refreshments at Penzion Zaka!
Lake Bled is also home of the Slovenian Olympic Rowing team and the rowing centre is a hive of activity as boats are cleaned and repaired in their hangers.
The path curves and we are now heading back to ground zero. On the left you are greeted with the shady overhang of forest trees while the right still provides stunning views of the lake and island. The lake also runs a tourist train and romantic carriage rides around the lake in the warmer months and both go past us within seconds of each other.
Sunbake, cycle, swim.  Just enjoying Lake Bled on a perfect day.
A choice is to be made further on as an inviting staircase winds down to greet you on the left and offers you the chance to ascend up to
Bled Castle
. If you decline, on your right you will see the Bled Swimming Area complete with lawns, deckchairs and the compulsory umbrella. It's not a beach as such but more a series of roped off sections of the lake deemed safe for swimming. Further out a solo group of teenagers are diving off the far platform and having a grand old time.
Ascend to Bled Castle or swim below?
The good looking jetset types are enjoying an Aperol Spritz at Vila Preseren and that means that we are nearly at the end. The call of the pletna owners rings out as they try to fill their boats for one more crossing.
Squeeze in an Aperol Spritz at Vila Preseren.
I imagine if you lived here you could a walk or ride around the lake every morning as a tolerable kick start to the day. For us, it is time to take a goodbye photo with the Bled Love Heart and say nasvidenje till next time.
What is it? – A walk around stunning Lake Bled, Slovenia.
Where is it? – Situated in North-West Slovenia, Lake Bled is about 45 minutes from the capital Ljubljana and 30 minutes from Lake Bohinj or the airport via freeway.
When is it? – Go anytime with morning preferable for pure tranquility and the chance to photograph island reflections on the lake. Each season offers a different perspective with winter mists, autumn colours and spring freshness. It is rare but if cold enough the lake freezes over and locals take to the lake on skates.
Why do it? – The stunning fairytale setting never fails to impress visitors so a visit and walk around Lake Bled is a must when in Slovenia.
How long is the walk? – The path is around 6km long and takes average 1.15 hours plus stops.
VISITING SOON? BOOK A SERVICE HERE TODAY!
Greg Kodric is an avid traveller who loves nothing better than a good wander around the streets and back streets of each new destination he visits.
"I enjoy sitting somewhere with a local brew and just watching the locals get on with their daily lives. It's fascinating to explore the sights, sounds and smells of somewhere new.
As well as visiting the usual tourist attractions, I like to compare the differences between places, the brands and products on offer and of course the local cuisine. I hope you enjoy my articles!"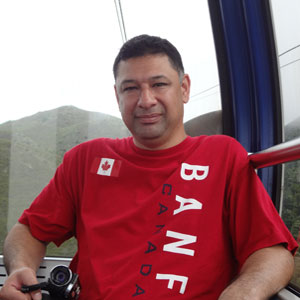 Have a question regarding this trip? – email us at info@triprovider.com
Now it's your turn! – Have you been? Like to know more? Like to comment on this review?
Please leave a comment in the box below, we're waiting to hear from you!