How to Get to and around Sun Moon Lake, Taiwan
Welcome to Sun Moon Lake, Taiwan!
Triprovider were super excited to visit Taiwan and are our first stop was the serene Sun Moon Lake.  We headed there straight from Taipei Taoyuan Airport via Taichung.
Read on for our trip review and guide on how to reach Sun Moon Lake and then move around the lake once you are there.  Connect and Go with Triprovider!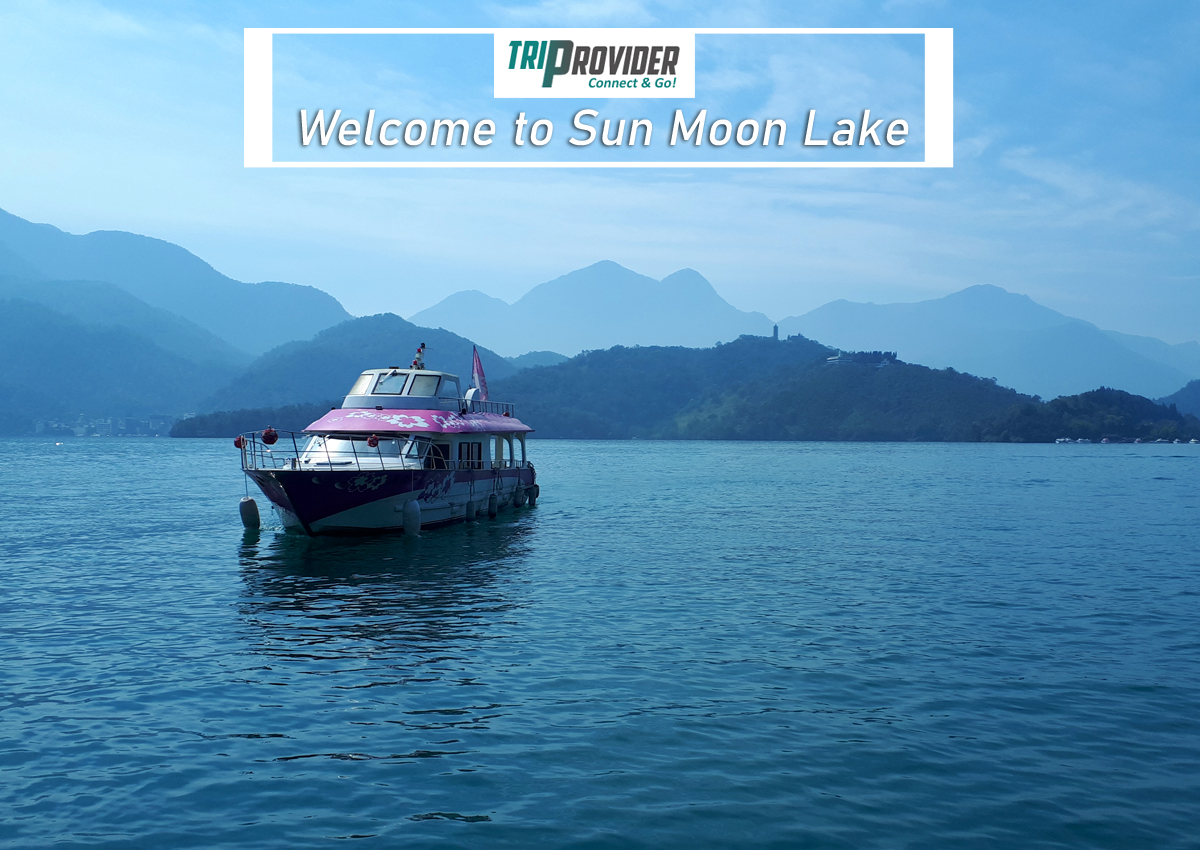 What is Sun Moon Lake and what is special about it?
Sun Moon Lake is a beautiful alpine lake and very popular holiday spot located almost in the middle of Taiwan.
In the middle of the lake, Lalu Island separates the lake so that one half is shaped like a crescent moon and the other half is shaped like a round sun; thus, the name "Sun Moon Lake".
Surrounding the lake is lush green forest forming on gently sloping mountains with larger peaks looming in the background.  The lake is vast and calm, providing a fascinating insight into the changing seasons that reflect off the lakes clear surface.
It is often covered in a soft blanket of mist, giving it a surreal and mysterious feeling. But if it is clear and you can rise early, sunrises are spectacular!
Because of its lakeside views and fertile surrounding countryside, it is a special place for just relaxing or getting more physical (it is a popular cycling and hiking destination!)
The area is home to the Thao, one of the original indigenous peoples to Taiwan. You can learn about their and Taiwan's history here and the area is also famed for its tea farms, mushrooms, orchids and even coffee!
So it is worth visiting Sun Moon Lake? Yes, definitely.
Getting there is easy as the Taiwanese try to make things as simple as possible for everyone! We love how all the signage is in English despite there being few tourists from English speaking countries, a great help!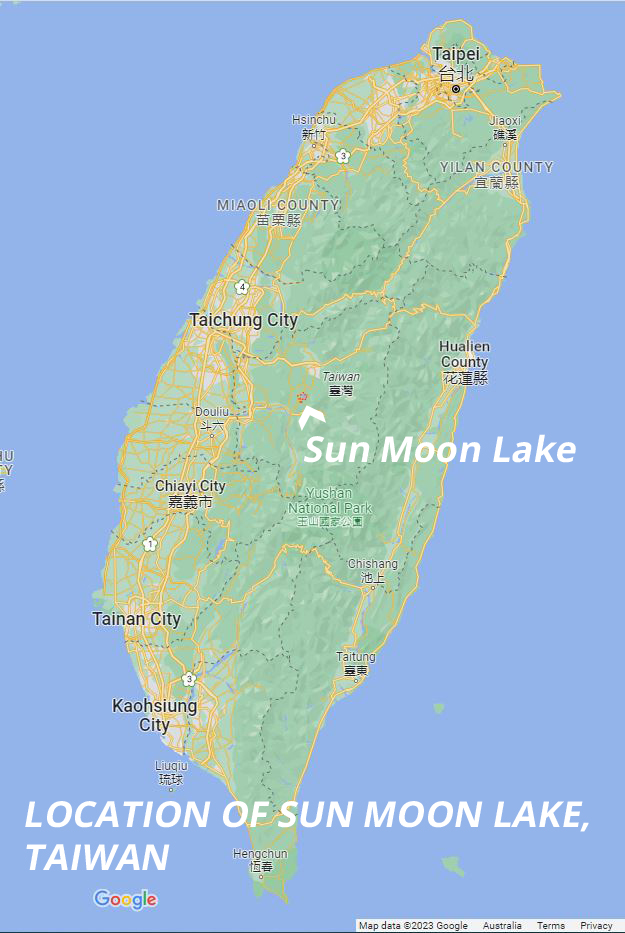 How do I get to Sun Moon Lake?
Getting from Taipei Taoyuan Airport to Sun Moon Lake
It's an easy 3 step process from Taipei Airport!
Catch a normal MRT train to Taoyuan HSR station.
Take the HSR train to Taichung HSR station.
Catch the tourist shuttle bus to Sun Moon Lake.
After arriving at the airport we looked for directions to the MRT and easily found a MRT ticket machine and purchased tokens for the train. Note machines take cash only.
If lost, just ask at the information desk, the staff are really helpful and will explain everything.
They also have prepaid cards called "Easycard" and "Ipass" that you buy with a certain amount of credit on them and use them to easily tap and off at train stations and even convenience stores. We bought these later and used them extensively during our stay, very easy!
Click here to pre-purchase your EasyCard (redeemed at the airport so you are ready to go!)
If you want to buy one at Taoyuan Airport, there is a ticket booth in all terminals that will sell them. They come in different amounts, so just pick what is best for you and off you go!
At Taoyuan HSR station we purchased a ticket for Taichung HSR station at the ticket window.
We heavily advise you pre-purchase your HSR tickets as trains can be sold out or you may not get a seat. On this trip I had to stand as the train was full. But the high speed rail is very fast and only takes an hour to Taichung.
Click here to pre-purchase your one-way or multiday HSR (High Speed Rail) tickets!
Getting from Taipei Centre to Sun Moon Lake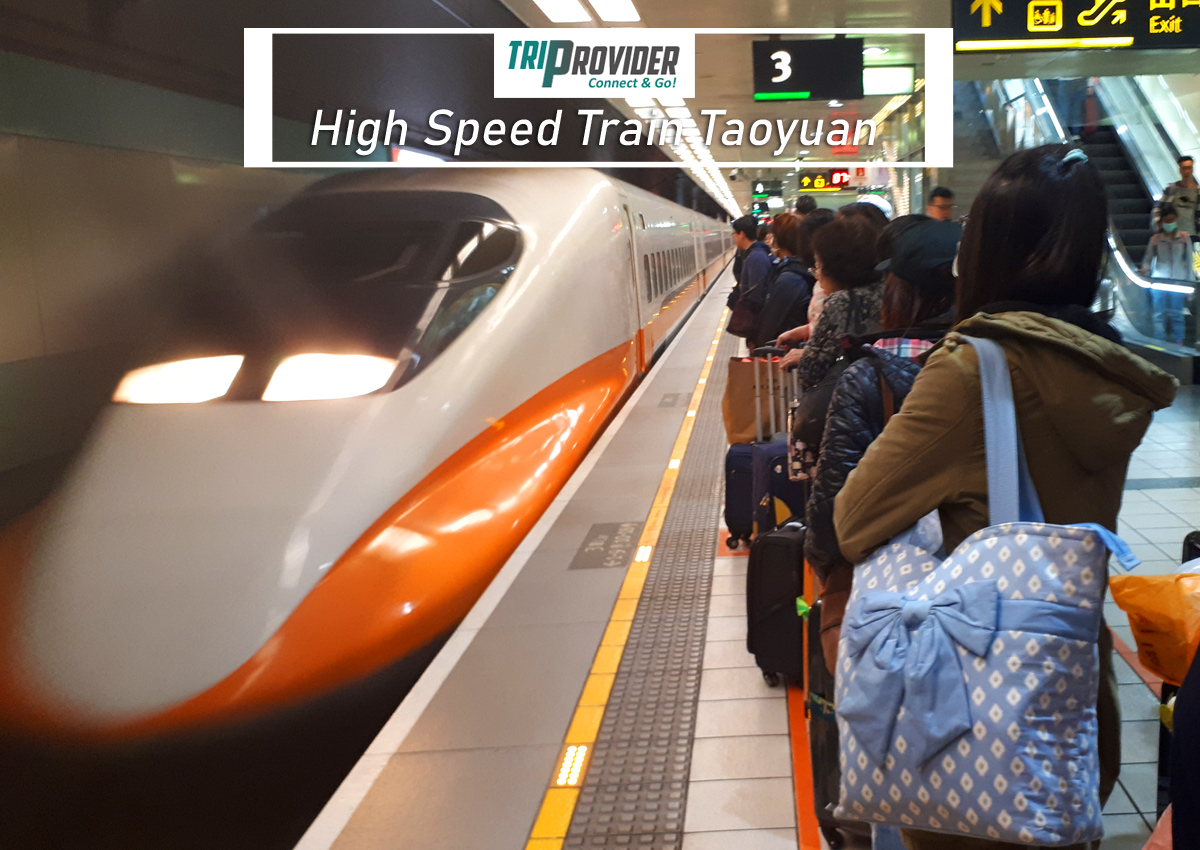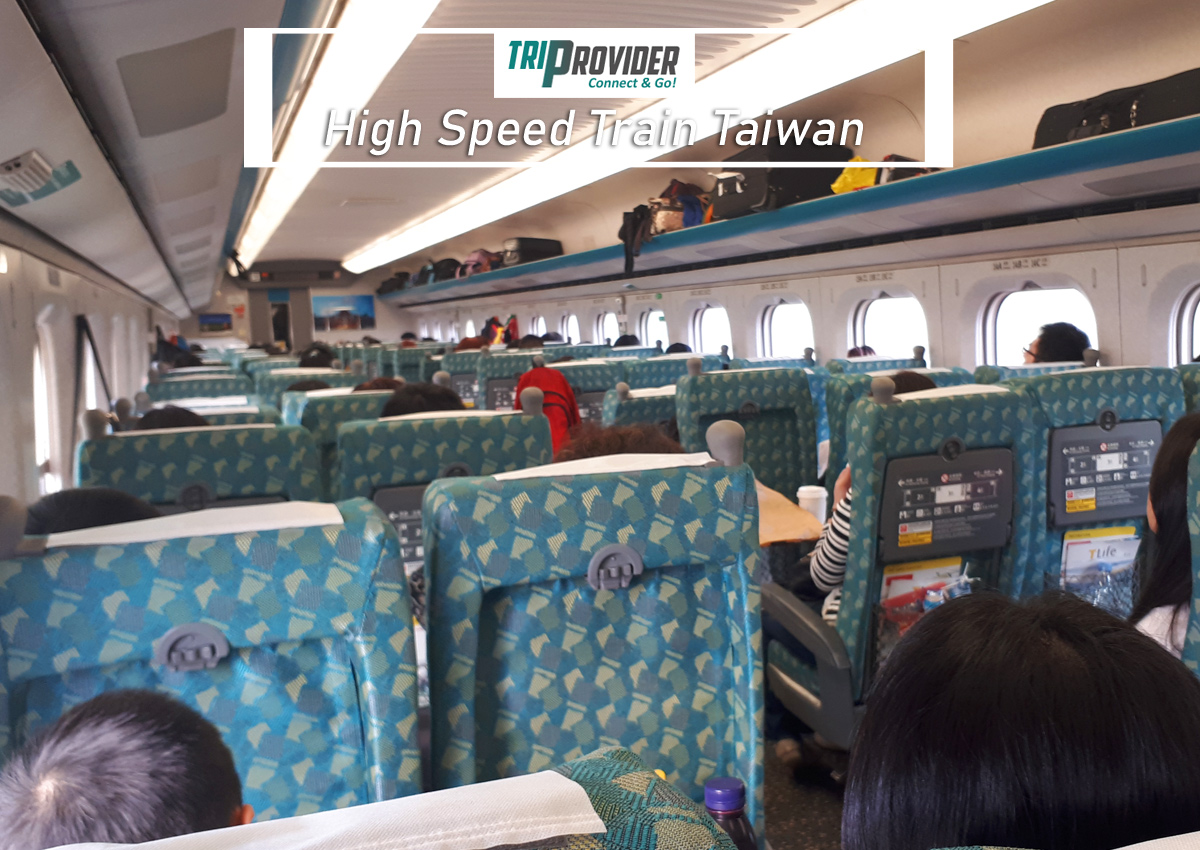 Getting from Taichung to Sun Moon Lake
Once you arrive at Taichung HSR station, you need to find the ticket counter for the buses to Sun Moon Lake.
We headed downstairs to Level 1 and looked for Exit door 5 where there is a small counter for Nantou Bus.
Sun Moon Lake offers various tourist packs depending on what you want to do at the Lake. We looked at the package options and asked the woman at the counter various questions and she was very helpful providing all the answers. It is a smart idea to buy one of these packs rather than purchasing tickets separately for every attraction and ride. But if you are just heading there for the day, you can of course just buy a return bus ticket.
With tickets in hand, you simply exit the door right next to the ticket counter and you are at the bus terminus where many busses are coming and going. Again the staff were helpful in making sure we got on the right bus.
It was a very enjoyable 1 hour bus ride through some nice countryside which had a very tropical feel (think palm trees) before we finally reached Shuishe which is the main town on the lake.
If arriving into Taichung by normal train or bus, you will arrive at the Main Taichung Train/Bus Station in the centre of town.
The Sun Moon Lake shuttle bus also departs from here.
You can also book a day trip from Taichung by clicking our link here.
or
Book a shared transfer from Taichung to the lake and back if you don't fancy the bus – click here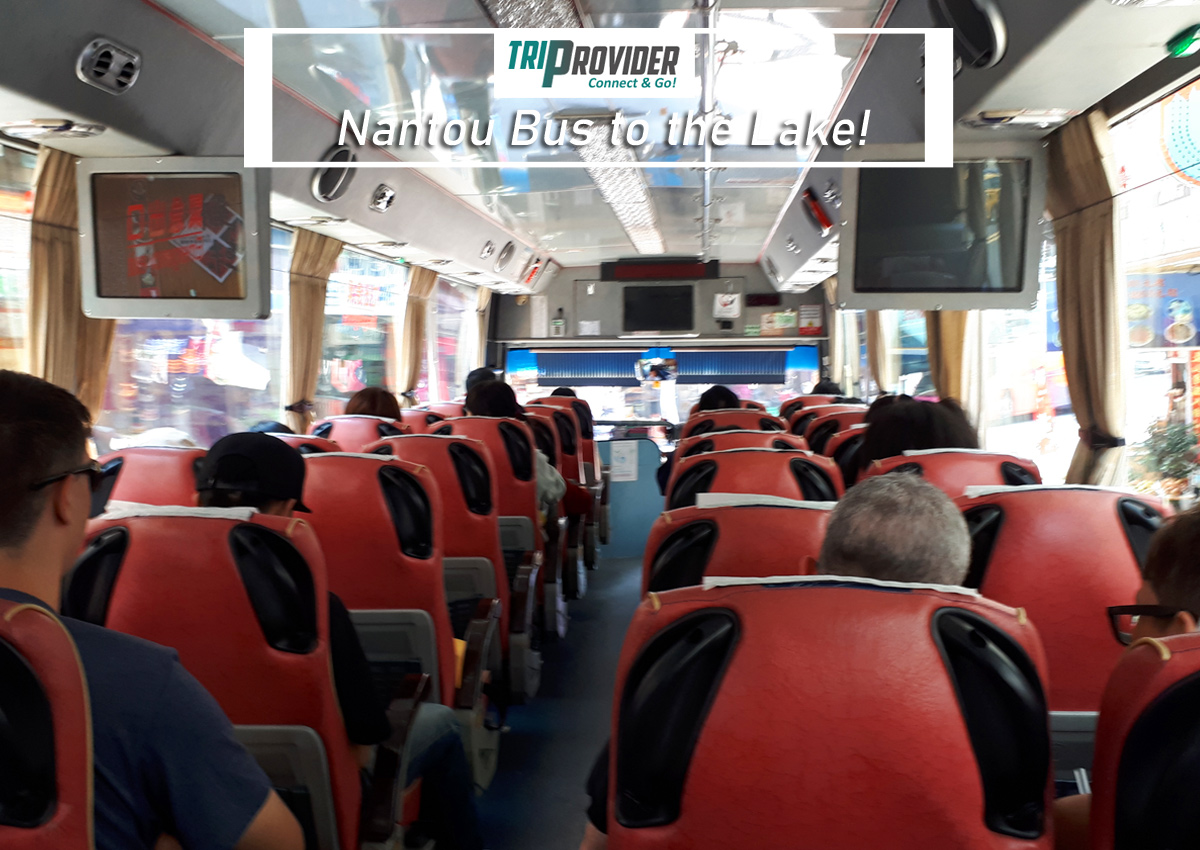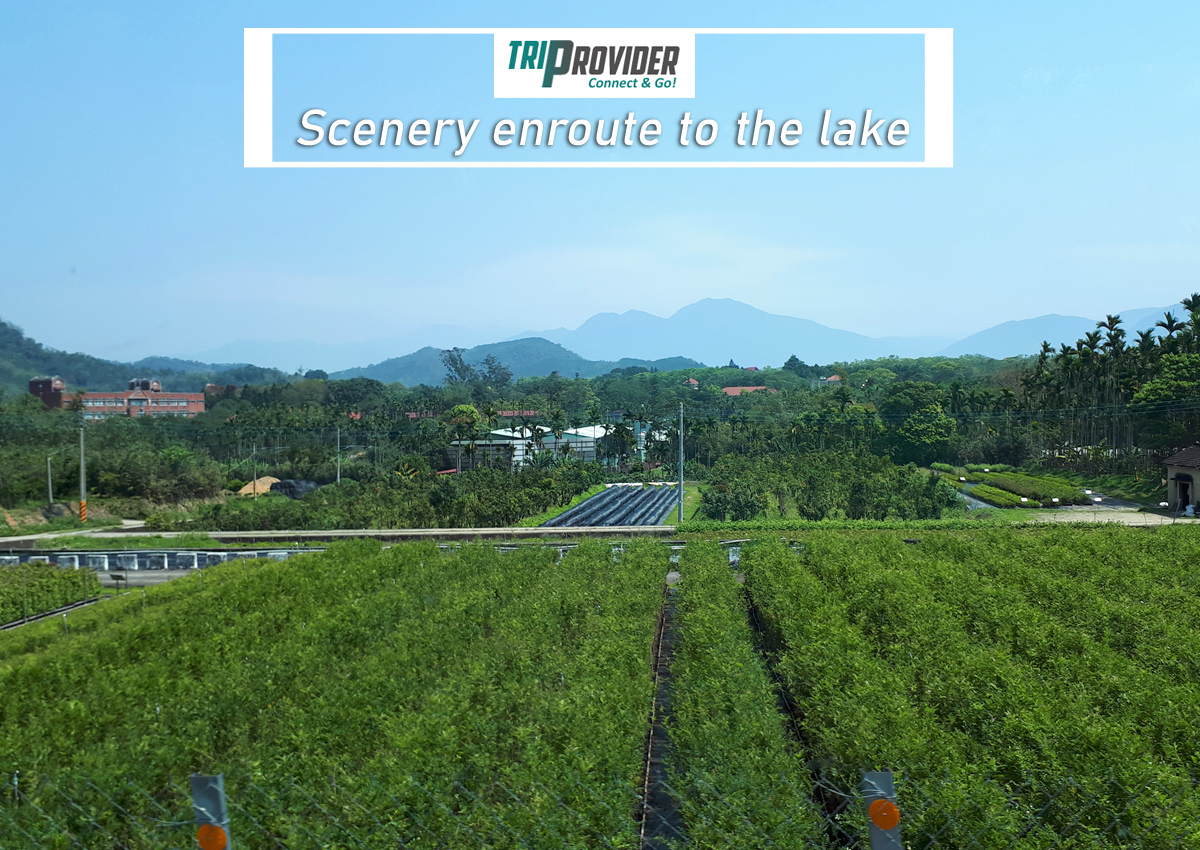 We're at Sun Moon Lake now. What can we do here?
As mentioned earlier, Sun Moon Lake is a popular destination for locals as a day or weekend trip.
Tourists also come for the same reasons. We recommend 2-3 days here but you could easily stay a week if you're looking at exploring the region and doing some longer hikes or bike rides for example.
The distance around the lake is roughly 30km and the perimeter is popular with bikers and hikers. There are many other trails in the area that bikers and riders can connect with as well. Bikes\E-Bikes and Scooters can easily be hired in Shuishe from many outlets.
Visitors can also take the extremely popular return boat ride from Shuishe on one side to Ita Thao on the opposite side. Ita Thao comes alive in the afternoon/evening as the main street is full of colourful street food stalls.
Near Ita Thao is a enjoyable cable car ride which leads you over the hillside to the Formosan Aboriginal Cultural Village which is a cultural village complete with gardens, information and displays of aboriginal culture and a whopping great big theme park as well with many rides.
Throw in some stunning temples with stunning vantage points and you've got a great stay in SML all sorted!
There are also a myriad of excursions and sightseeing spots in the vicinity of the lake so you can see you can easily spend a week here if you wanted.
Theme Park Visit – Book a day trip from Taichung, click our link here.
SML – Cable Car, Boat and Bike day pass, click here
How do you get around Sun Moon Lake?
Most people will be arriving in Shuishe for their stay in Sun Moon Lake.
The options for getting around Sun Moon Lake from Shuishe are:
Boat
From the Shuishe pier there frequent are tourist boats that head to Ita Thao and other points. You can buy tickets at the pier or you can pre-purchase the Sun Moon Lake tourist packs that include a return boat trip.
Our affiliate partners also offer a boat/cable car/bike combo ticket – click here
2. Bike / Scooters
Biking is very popular. It takes about 3 hours for a leisurely ride but pros could do it an hour, but why would you?
The eastern side is ridden on the main road but a dedicated bike path extends from the southern side until pros ride alongside amateur day trippers on the western side.
Scooters are very popular as well and bikes and scooters can be hired in Shuishe and Ita Thao.
3. Car
If you have a car then of course you can circumnavigate the lake and stop wherever you like as per your wishes.
4. Hiking
As described earlier, there is a dedicated hiking/biking path along the western/southern side but the tricky part will be the eastern section where there is only road so not advisable.
5. Bus
The local bus 6669 goes around the eastern/southern part of the lake in both directions and stops at all the main points of interest so it is very likely you will make use of it during your stay. Busses run from approx. 8am to 5pm.
Taxis
Taxis are scarce and not recommended as they are very expensive. Triprovider found this out the hard way. After enjoying an evening at the food stalls at Ita Thao, we realised that all the busses and boats finished at dusk so we had no way of returning to Shuishe. After pleading with a hotel, they finally called a taxi for us to avoid us walking back!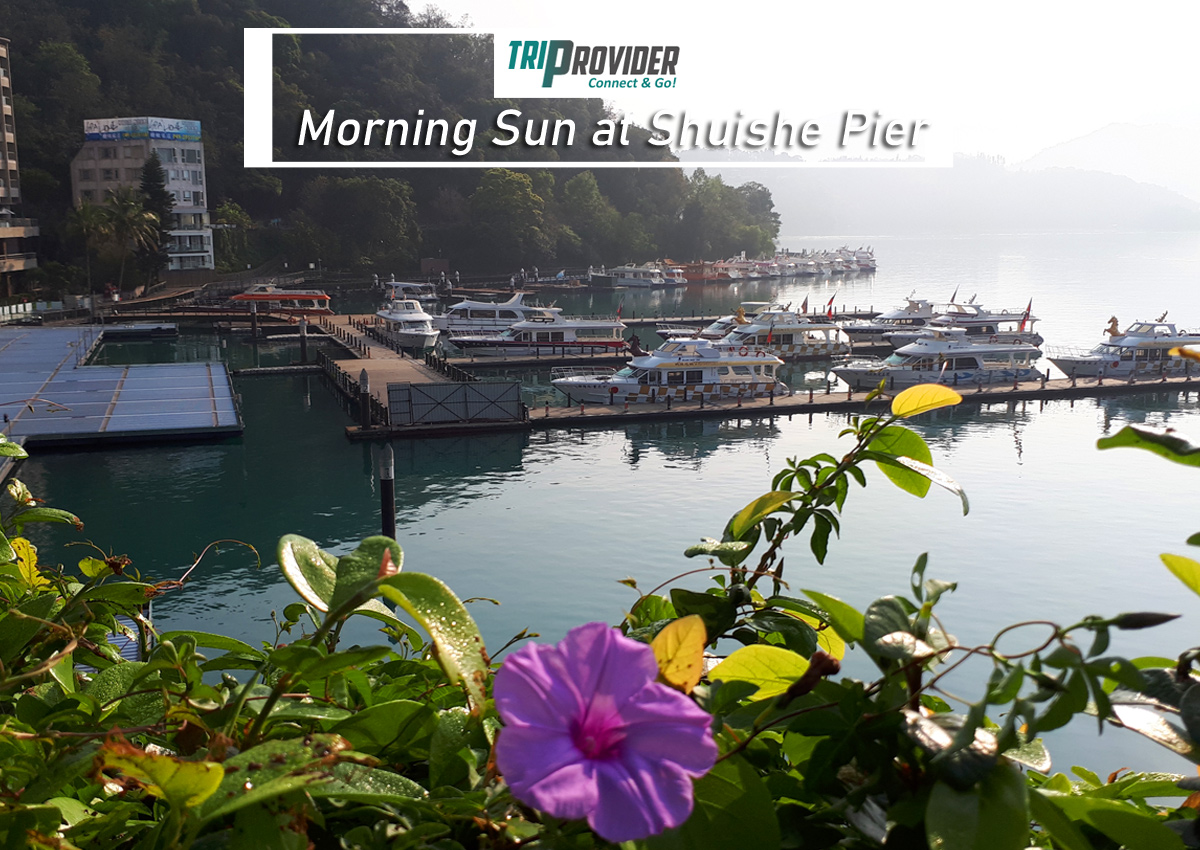 Boat trip
We love a short boat or ferry trip and we were excited to get onto Sun Moon Lake to feel the cooling lake spray on our faces.
There is a ticket office at Shuishe Pier if you don't have tickets but we already had ours as we bought the Formosan Aboriginal Cultural Village pass which included the boat voucher (all the passes include the boat trip except for the Xitou or Alishan pass).
We headed down to the pier and you will see staff in red and blue uniforms who can direct you onto the right boat and inspect your voucher.
The boat does a return loop of Shuishe – Xuanguang Temple – Ita Thao – Shuishe.
You can use your pass as many times as you want on one day only.
Times are approximately every 20 minutes from 9am to 5pm, but check at the pier for exact details.
Our affiliate partners also offer a boat/cable car/bike combo ticket – click here
Bus
The bus is essential for stops where the boat doesn't go (like Wenwu Temple) and again it is best to buy a lake pass to have the bus voucher included but you can also use an Ipass if you have one.
The bus is no #6669 and it goes from about 8am to 5pm but it only travels the eastern side of the lake. Again, see the SunMoonLake.gov.tw site for exact times.
Stops are: Shuishe, Fleur de Chine Hotel, Wenwu Temple, Songbolun Trail, Peacock Garden, Dajhuhu Trail, Shueiuatou Trail, Sun Moon Lake Ropeway, Ita Thao, Tutingzai Trail, Xuanzang Temple, Cien Pagoda, Xuanguang Temple.
Lakeside Bike Trail
The western side of the lake is where you will find day trippers riding their bikes along the SML Bikeway.
From Shuishe the trail takes you around the edge of the lake past Shuishe Dam to Xiangshan Visitors Centre where most people will stop for a break and to take photos.
From here you can continue onwards until the path ends when it meets up with the main road at the most southern point. Pro bikers can continue on the main road whilst amateurs will turn and go back.
There are also short bikeways on the eastern side at Ita Thao and Songbolun plus from Shuishe you can go east and end up at Wenwu Temple.
Bikes can be hired around the lake (Shuishe, Ita Thao) and one of the passes (Bike Pass) includes bike hire.
We enjoyed the ride as it is very scenic and relaxing but one tip is try to avoid weekends and public holidays as the bikeway gets very, very congested making it less enjoyable and relaxing!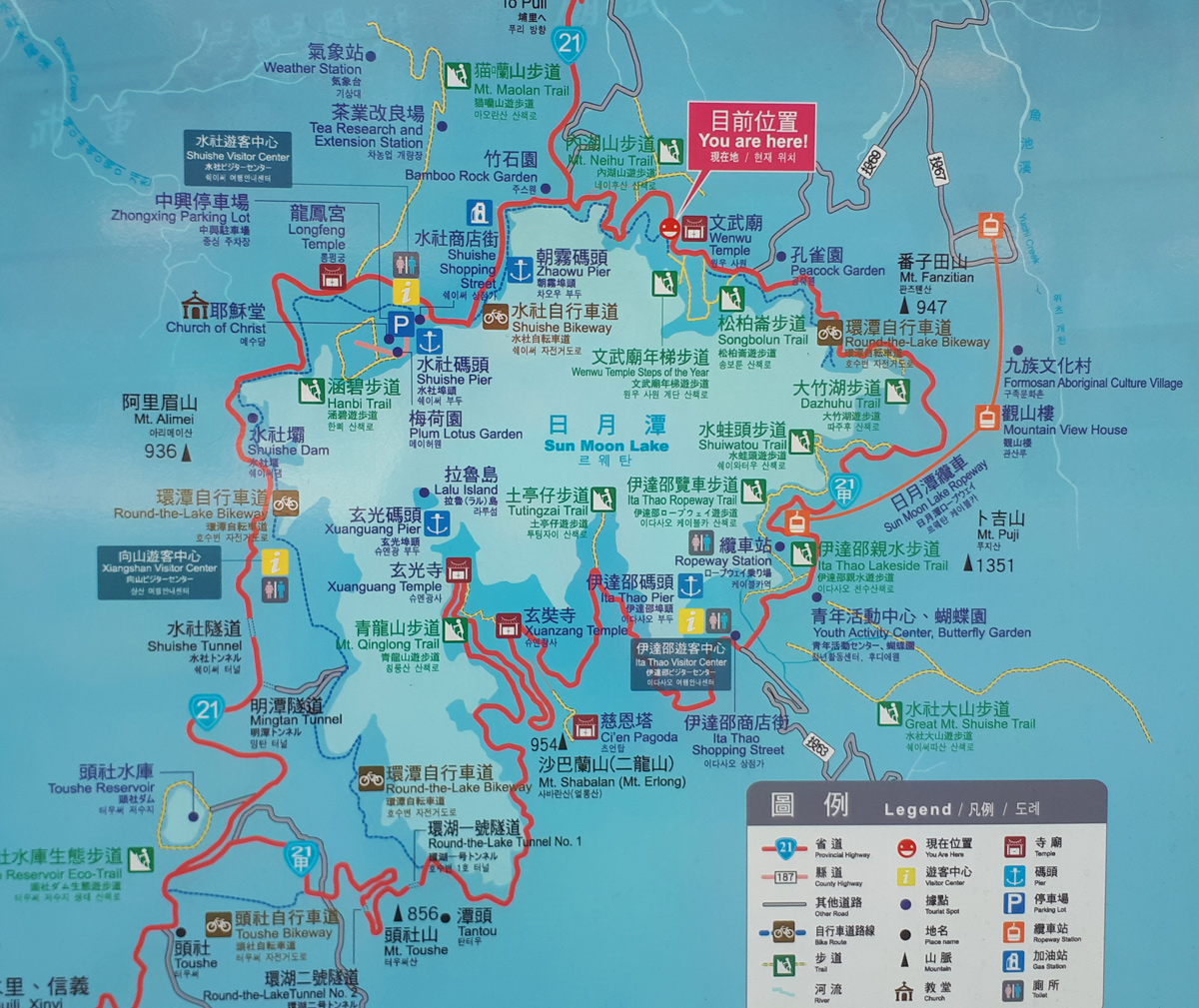 BOOK TOURS & PASSES  for  SUN MOON LAKE
TIPS for trips to SUN MOON LAKE
Pre-purchase your EasyCard HERE so you can collect at the airport and jump onto the MRT if you are going to Sun Moon Lake or Taipei (or anywhere else!).
Pre-purchase your HSR (High Speed Tickets) tickets HERE so you can collect at the window. Highly recommended as many trains to Taichung are sold out or you cannot reserve a seat.
The Sun Moon Lake passes are ideal for tourists as they can include your bus, boat and theme park tickets on the one pass. But there are a few to choose from, so review them carefully to make sure you get the right one for your needs.
The bus stops at Shuishe at Sun Moon Lake. If staying at Ita Thao, you need to take a 6669 bus or boat to get to the other side.
Like many places in Taiwan, there are no footpaths in Shuishe so be careful when walking the streets.
The boats and busses stop at around 6pm, so make sure if you are visiting Ita Thao but staying in Shuishe, that you are able to get back.
Try to avoid public holidays and weekends as locals flock to Sun Moon Lake and the bike-ways especially become very congested!
Check the weather as Sun Moon Lake can often be overcast and covered in low lying mist which will ruin the beautiful views of the lake but can also be beautiful in itself!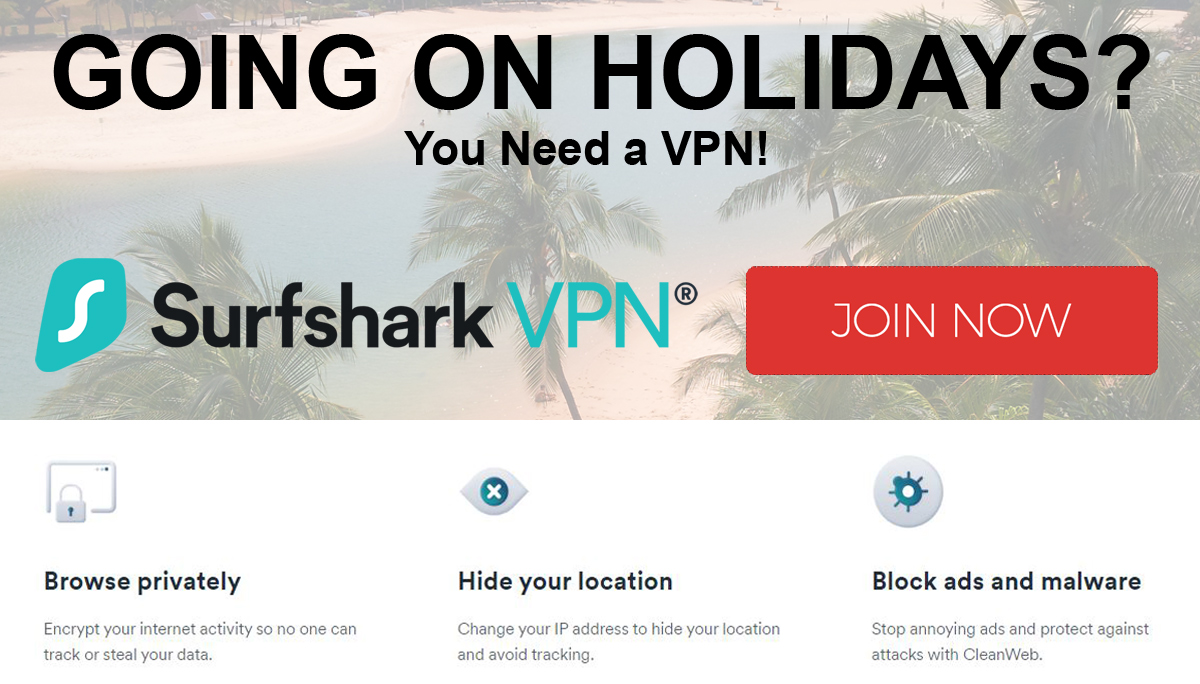 VISITING SOON? BOOK A SERVICE HERE TODAY!
Greg Kodric is an avid traveller who loves nothing better than a good wander around the streets and back streets of each new destination he visits.
"I enjoy sitting somewhere with a local brew and just watching the locals get on with their daily lives. It's fascinating to explore the sights, sounds and smells of somewhere new.
As well as visiting the usual tourist attractions, I like to compare the differences between places, the brands and products on offer and of course the local cuisine. I hope you enjoy my articles!"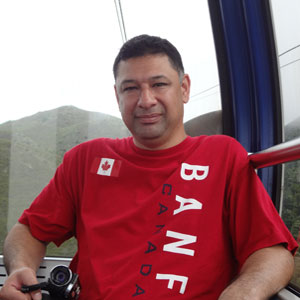 Have a question regarding this trip? – email us at info@triprovider.com
Now it's your turn! – Have you been? Like to know more? Like to comment on this review?
Please leave a comment in the box below, we're waiting to hear from you!